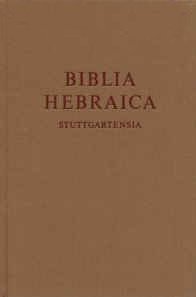 Biblia Hebraica Stuttgartensia (BHS)
Fourth Edition (1987)
Highlights
A staple of Bible Colleges and Seminaries
Named as one of the 850 Books for Biblical Expositors by the Master's Seminary
Product Details
The Biblia Hebraica Stuttgartensia is the fourth edition of the Masoretic Text of the Hebrew Bible as preserved in the Leningrad Codex, and supplemented by masoretic and text-critical notes. It is published by the Deutsche Bibelgesellschaft (German Bible Society) in Stuttgart.
Biblia Hebraica Stuttgartensia was prepared by H. P. Rüger and numerous other scholars on the basis of the St. Petersburg Public Library manuscript B19a and is a revision of the third edition of the Biblia Hebraica edited by Rudolf Kittel, the first printed Bible based on the Leningrad Codex.
The text of Biblia Hebraica Stuttgartensia is an exact copy of the masoretic text as recorded in the Leningrad Codex. However, Chronicles has been moved to the end as it appears in common Hebrew bibles, even though it precedes Psalms in the codex. In the margin of the Biblia Hebraica Stuttgartensia are Masoretic notes. These notes are based on the codex, but have been heavily edited to make them more consistent and easier to understand. There are footnotes that record possible corrections to the Hebrew text. Many of the footnotes are based on the Samaritan Pentateuch, the Dead Sea Scrolls, and on early Bible translations such as the Septuagint, Vulgate and Peshitta.