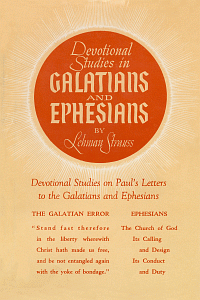 Devotional Studies in Galatians and Ephesians
Highlights
From a dispensational perspective
Outlined studies and commentary
Product Details
The growing Strauss line of books has been augmented by another very practical volume in which Dr. Strauss applies Scripture to the needs of everyday living.
Quotes from Galatians:
"Perhaps the outstanding weakness in the Gauls was their caprice, well known in that day and not eradicated when they accepted Christ."
"The Galatians were not to be excused since the substitutionary death of Christ at Calvary had been depicted so plainly before their very eyes and minds. Paul is not insinuating that the Galatians were naturally stupid and senseless. But there is a tinge of indignant sadness in his heart because Paul himself had graphically portrayed to them the sufferings and death of the Saviour as the only remedy for the sins of the world."
Quote from Ephesians:
"Ephesians is the thrilling story of how God creates anew the man that He created originally in His own image and likeness, but who, through disobedience, fell from his lofty position. The plan involved a perfect Head for the Body and a perfect Head-Stone for the Building."
About the Author
Lehman Strauss taught Old Testament history for eight years at Philadelphia Bible Institute and served as pastor of the Calvary Baptist Church in Bristol, Pennsylvania from 1939 to 1957. Strauss served as pastor of Highland Park Baptist Church (Highland Park, Michigan) until the end of 1963 when he resigned to devote himself to a full-time itinerant Bible conference and evangelistic ministry both in the States and abroad. Strauss taught on the national weekly radio broadcast, "Bible Study Time." Dr. Strauss was residing in Florida and writing his 19th book at the age of 86 when the Lord called him home in June 1997.
Endorsements
Well-outlined devotional messages aimed at expounded the text and edifying believers. Practical, evangelical and Christ-centered.