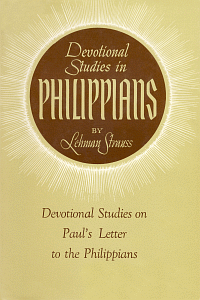 Devotional Studies in Philippians
Devotional Studies on Paul's Letter to the Philippians
Highlights
From a dispensational perspective
Outlined studies and commentary
Product Details
Once again Dr. Strauss, with his usual insight and clarity, kindles our rereading of a letter from the Apostle Paul. This time it is his message to the Philippians — practical in its application, challenging in its gentle probing, melting the heart in its plea for true Christian living.
"Christian," Dr. Strauss challenges the reader, "be a specialist. Seek to know Christ as the 'one thing' for which you live."
About the Author
Lehman Strauss taught Old Testament history for eight years at Philadelphia Bible Institute and served as pastor of the Calvary Baptist Church in Bristol, Pennsylvania from 1939 to 1957. Strauss served as pastor of Highland Park Baptist Church (Highland Park, Michigan) until the end of 1963 when he resigned to devote himself to a full-time itinerant Bible conference and evangelistic ministry both in the States and abroad. Strauss taught on the national weekly radio broadcast, "Bible Study Time." Dr. Strauss was residing in Florida and writing his 19th book at the age of 86 when the Lord called him home in June 1997.
Endorsements
A delightful well-outlined series of meditations.