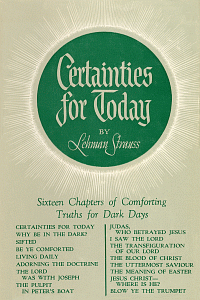 Certainties for Today
Sixteen Chapters of Comforting Truths for Dark Days
Highlights
From a dispensational perspective
Available as a KINDLE download
Product Details
On all sides today we are besieged by books that tell us how to acquire happiness, how to fulfill our possibilities, or how to stop worrying. Most of them, written from a purely human viewpoint, leave the reader just as unhappy, unfulfilled and worried as he was before reading the book.
Not so with Certainties For Today. This is a book based on certainties. Its answers to problems are the real answers, based on God's eternal Word and on His changeless character.
Here are words of assurance—"The Certainty of Salvation," "The Certainty of Satisfaction," and "The Certainty of Security." Here, too, are exhortations to holy daily living: "The Daily Cross," "The Daily Call," "The Daily Care of Each Other." And here are messages of challenge: "The Trumpet Calls to Worship," "The Trumpet Calls to Warfare," "The Trumpet Calls to Watch."
This is not "do it yourself" advice, but warm talks to Christians, reminding us of God's provision for all our needs and His promise never to leave us.
Certainties For Today is a book to encourage and hearten the believer, and a book that calls him to worship his Lord because of His unchanging character and care for His children.
About the Author
Lehman Strauss taught Old Testament history for eight years at Philadelphia Bible Institute and served as pastor of the Calvary Baptist Church in Bristol, Pennsylvania from 1939 to 1957. Strauss served as pastor of Highland Park Baptist Church (Highland Park, Michigan) until the end of 1963 when he resigned to devote himself to a full-time itinerant Bible conference and evangelistic ministry both in the States and abroad. Strauss taught on the national weekly radio broadcast, "Bible Study Time." Dr. Strauss was residing in Florida and writing his 19th book at the age of 86 when the Lord called him home in June 1997.