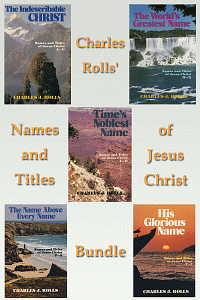 Charles Rolls' Names and Titles of Jesus Christ Bundle
Names and Titles of Jesus Christ: A-Z
Highlights
All five volumes of the series
Product Details
As the letters of the alphabet are the basis of any written communication, so Christ is the "alphabet" of the spiritual realm. Dr. Rolls explores the innumerable names and titles of Jesus Christ, revealing countless facets and attributes of His character that thrill the heart and bring to every Christian new wonder and love for our Lord Jesus Christ.
This bundle includes:
The Indescribable Christ
The World's Greatest Name
Time's Noblest Name
The Name Above Every Name
His Glorious Name
In your Wordsearch desktop program these books can be found under the Study Helps folder and the book will be titled "Names and Titles of Jesus Christ." Once you open that book, you will find all five volumes under its table of contents.
About the Author
Charles J. Rolls is renowned on several continents for his encyclopedic knowledge of Scripture and his radiant devotion to the Lord Jesus Christ. Educated at the University of Cambridge, Dr. Rolls has been a missionary in India and home director for the Sudan Interiors Mission for New Zealand and Australia. He was founder and dean of Bible schools in New Zealand, Australia, and the United States, later relinquishing ministry to concentrate on writing and preaching largely in the United States and Canada, where he now makes his home.