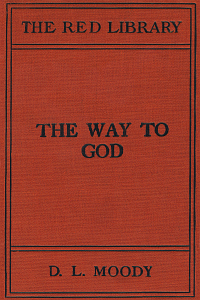 The Way to God
And How to Find It
Highlights
A collection of sermons illustrating the simplicity of Salvation
Sold 435,000 copies by 1900
D.L. Moody was the first evangelist since Whitefield to shake two continents for God
Also available as a KINDLE download
Product Details
A collection of sermons illustrating the simplicity of Salvation. Published in 1884, this book had sold 435,000 copies by 1900.
God did not mean for salvation to be a deep, complicated subject man could not understand. Dwight L. Moody shows how simple salvation is. Moody doesn't use heavy philosophy, but simply shows "the way to God."
About the Author
Dwight L. Moody was born at Northfield, Mass. on Feb. 5, 1837. Moody was an American evangelist and publisher who founded the Moody Church, Northfield School, the Mount Hermon School in Massachusetts, the Moody Bible Institute and Moody Publishers.
He may well have been the greatest evangelist of all time. In a 40-year period he won one million souls, founded three Christian schools, launched a great Christian publishing business, established a world-renowned Christian conference center, and inspired literally thousands of preachers to win souls and conduct revivals.
Endorsements
Full of pathos, point and power, cannot fail to be the means of quickening and blessing wherever read.