The Second Crisis in Christian Experience
Author: Christian Wismer Ruth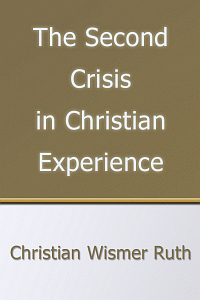 Product Highlights
From a Wesleyan Holiness perspective
Product Details
This book by C.W. Ruth offers an emphatic and explicit explanation of scriptural holiness.
About the Author
Christian Wismer Ruth, "Man on the Go", was born in Bucks County, Pennsylvania, on September 1, 1865. His parents were thrifty, God-fearing people, who provided their four children with attendance at the Sabbath school, revivals, and camp meetings, all this coupled with a good supply of Dutch determination.
Upon completion of his courses, taught in the one-room rural school, Christian settled in nearby Quakertown. Here he served an apprenticeship in the printer's, trade. Working near him was, a minister's son, who befriended and led him to Christ in the local church one Sunday night in September, 1882. Straightway Ruth became a devout student of the Bible, carrying two Testaments in his pocket -- one in German and one in English.
In the early part of 1884, Ruth accepted a printing position in Indianapolis, Indiana. However the Lord had other plans for the young printer. God distinctly called him to preach. So in the fall of 1884 Ruth resigned the printing position and accepted his first invitation to assist a church in a revival campaign. For the rest of his career C. W. Ruth had hardly as much as a three-week vacation from his labors in the cause of holiness evangelism.
Ruth's style of preaching was, mostly in the realm of scriptural instruction on second blessing holiness. With his invaluable grasp of the Scriptures he carried his listeners along with him as he turned page after page in the Word, explaining the glorious way of perfect love. Often in his discourse as he read a new verse on the doctrine, he acted as though it became brand-new to him. By his, various, methods of Biblical instruction he caused converts to understand the truth and stand clearly in their newly found Christian experience. It has been safely said, Evangelist Ruth wore to tatters over twenty Bibles, by his expository system of preaching. Soon this man with the unusual type of ministry became known as, one of the best camp meeting Bible expositors. Across, America and Canada, churches and camp meeting committees sought for Ruth's services.
In 1901 Dr. P. F. Bresee, pastor of First Church of the Nazarene, Los Angeles, California, needed an assistant. Not only had the congregation grown to several hundred members but the new denomination had elected him their first general superintendent. Dr. Bresee, with his official board, asked Rev. C. W. Ruth to join him as associate pastor. After much prayer, arrangements were completed and Ruth at once moved his family from Indianapolis to Los Angeles. He was appointed as assistant general superintendent and was also made associate editor of the paper. Together Bresee and Ruth started what is now Pacific Bible College. Ruth acted as vice-president of the college as well as teaching systematic theology and Bible holiness.
Besides the fact that Ruth was a foremost teacher-type evangelist, he was also an outstanding writer on the doctrine of entire sanctification. His articles constantly appeared in holiness journals, for both his pen and pulpit appearances were aglow on the subject. Among his books which have a wide circulation are Entire Sanctification, Bible Readings on the Second Blessing, The Pentecostal Experience, Temptations of the Sanctified, and several others.
In personality the man from Pennsylvania never got away from his Dutch characteristics. He was thick-set, short of stature, and slightly round-shouldered. He wore pincher glasses that covered sparkling eyes. One could not get away from his broad smile and love for humanity. His main contribution to the church lies in the fact that he united the holiness bodies into one great denomination and led multitudes into the experience of holiness of heart. How much the holiness movement owes, this man may never be revealed until that great day.
As he lay dying at Asbury College, Wilmore, Kentucky, on May 27, 1941, Rev. C. W. Ruth repeated these truths, as evidences of perfect love: (1) He had kept God's Word -- I John 2:5. (2) He loved his fellow men -- I John 4:12. (3) He was not fearful of the judgment -- I John 4:17-18. The fruit of the righteous is, a tree of life; and he that winneth souls is wise (Prov. 11:30).