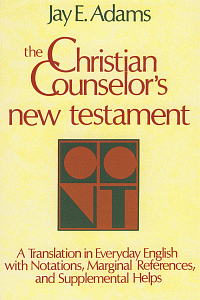 The Christian Counselor's New Testament
Highlights
Provides easy access to key passages for each counseling problem
Suggestions on how to apply these passages
Enables the counselor to review at a glance the basic principles of counseling
Helps the counselor discover reasons for counseling failures
Product Details
The Christian Counselor's New Testament is a translation in everyday English with notations, marginal references, and supplemental helps. Christian counselors will find this the most convenient tool at their disposal! Intended for use during counseling sessions, this translation includes invaluable notes and references that have been carefully selected for their practical value. Featured in the text itself are a system of highlighting, marginal notations, and explanatory footnotes. Ample space on each page invites the counselor to highlight additional texts and add personal notations. Supplementing the text are sections titled: "Counselor's Quick Check List," "Fifty Failure Factors," "Typical Remarks and Suggested Counselor's Remarks," "Question Asking," "Listening," "Counseling Outlines for Common Problems" (listed alphabetically), and "The Christian Counselor's Quick Reference to Ten Common Problems."
The author's translation, The Christian Counselor's New Testament, brings our the nuances in the text that are of significance to the counselor and what other translations may fail to reflect.
About the Author
Jay E. Adams Ph.D., is a former professor of practical theology and director of advanced studies at Westminster Theological Seminary in California as well as a retired pastor. He is a prolific writer on the topics of Christian education, Christian counseling, and pastoral practice. He has written many books, including: Competent to Counsel, Christian Living in the Home, and The Christian Counselor's Manual.