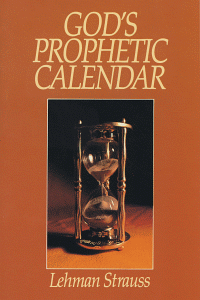 Highlights
From a dispensational perspective
Available as a KINDLE download
Product Details
In this book, Lehman Strauss studies the practical import and the prophetic meaning of the seven feasts described in Leviticus 23. Originally given to the Israelites, the feasts detail God's plan for the present church age and His purpose for a future dispensation.
This single chapter in the Old Testament contains a complete chronological foreshadowing of God's design for mankind commencing with Christ's redemptive work at the cross and concluding with the establishment of the millennial kingdom.
About the Author
Lehman Strauss taught Old Testament history for eight years at Philadelphia Bible Institute and served as pastor of the Calvary Baptist Church in Bristol, Pennsylvania from 1939 to 1957. Strauss served as pastor of Highland Park Baptist Church (Highland Park, Michigan) until the end of 1963 when he resigned to devote himself to a full-time itinerant Bible conference and evangelistic ministry both in the States and abroad. Strauss taught on the national weekly radio broadcast, "Bible Study Time." Dr. Strauss was residing in Florida and writing his 19th book at the age of 86 when the Lord called him home in June 1997.