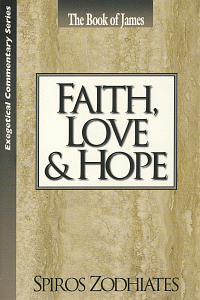 Exegetical Commentary on the Book of James
Faith, Love and Hope
Highlights
Exegetical Commentary Series
Product Details
This study is probably one of the most extended expository works on that much neglected, though eminently practical, book of James. It took three years to complete the studies in this series, and the author seeks to bring within everyone's comprehension the depths of thought in the Greek text. The studies therefore will be of value to both the preacher and to the general Christian reader and worker.
Although these studies are based on the Greek text of James, they are not technical or specialized. Their main purpose is to touch and influence the life of the reader and to help the reader apply the message of James to practical life. This is a book on Christian conduct and includes crucial lessons on how God wants us to behave.
Spiros Zodhiates takes you through the entire book of James verse-by-verse. There are three major divisions that Dr. Zodhiates has created for the purpose of analysis:
The Work of Faith
The Labor of Love
The Patience of Hope
These categories will help the reader identify the themes of the book and better understand the practical manifestation of Christ in us. Subjects included in this book are:
Wisdom
The Tongue
Dealing with Sin
True Faith
About the Author
Spiros Zodhiates was born to Greek parents on the island of Cyprus in 1922. After completing his Greek education, he attended the American University in Cairo, Egypt, The National Bible Institute (now Shelton College), and New York University. He earned his Doctor of Theology degree from Luther Rice Seminary. In addition, Dr. Zodhiates has been the recipient of several honorary doctorates.
In 1946, he came to the United States at the invitation of the American Mission to the Greeks, Inc. At that time, there were two part-time employees who met in a small, one-room office. Dr. Zodhiates became president of this organization in 1966. Now known as AMG International ('Advancing the Ministries of the Gospel'), it carries on a worldwide evangelistic and relief ministry and has its headquarters in Chattanooga, Tennessee.
Dr. Zodhiates is a recognized authority on the Greek New Testament, and has edited an edition of the Modern Greek New Testament that was published by the Million Testaments Campaign and the American Bible Society. He is the author of numerous exegetical books and booklets in both the Greek and English languages. In addition, he was heard daily on the New Testament Light radio program, released over a network of stations across the United States and Canada.
After suffering numerous health problems in the late 1990s, Zodhiates transitioned out of active work, though many of his commentary manuscripts are still being edited and published, and his radio and television recordings are being redistributed digitally. He died in Chattanooga on October 10, 2009.