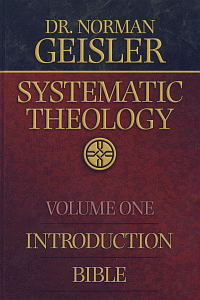 Systematic Theology Volume One
Introduction/Bible
Product Details
As Dr. Norman Geisler explains and defends the essentials that make Christian belief possible-the preconditions-he lays a thorough foundation for Christian faith that will instruct theologians, pastors, and students for years to come.
Building on that foundation, Geisler's biliology, including the inspiration and authority of the Bible, has been called "the most extensive defense of the consistent evangelical view of Holy Scripture available."
About the Author
Dr. Norman Geisler is author or coauthor of over sixty-eight books and hundreds of articles. He has taught at the university and graduate level for forty-eight years and has spoken or debated in all fifty states and in twenty-five countries. He holds a Ph.D. in philosophy from Loyola University and is the co-founder and long-time Dean of Southern Evangelical Seminary, in Charlotte, North Carolina.
Endorsements
A profound work from one of the finest theological and philosophical minds of our time.