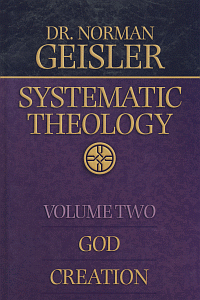 Systematic Theology Volume Two
God/Creation
Product Details
Dr. Norman Geisler clearly sets forth the reality of the existence of God: who He is. The author lays the foundation by explaining and describing the attributes and characteristics of God, among them His actuality and simplicity, life and immortality, unity and trinity. Dr. Geisler concludes this study by illustrating how we must respond to God's attributes with heart, mind, and strength.
He then turns to what God does, or His activity: the creation of all things, the origin of spiritual creation, the sustenance of creation. The section culminates in a discussion of God's relation to His creation.
About the Author
Dr. Norman Geisler is author or coauthor of over sixty-eight books and hundreds of articles. He has taught at the university and graduate level for forty-eight years and has spoken or debated in all fifty states and in twenty-five countries. He holds a Ph.D. in philosophy from Loyola University and is the co-founder and long-time Dean of Southern Evangelical Seminary, in Charlotte, North Carolina.
Endorsements
A profound work from one of the finest theological and philosophical minds of our time.