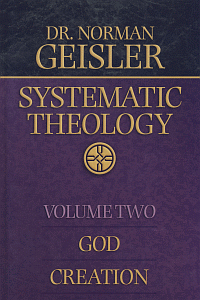 Systematic Theology Volume Two
God/Creation
Product Details
Dr. Norman Geisler clearly sets forth the reality of the existence of God: who He is. The author lays the foundation by explaining and describing the attributes and characteristics of God, among them His actuality and simplicity, life and immortality, unity and trinity. Dr. Geisler concludes this study by illustrating how we must respond to God's attributes with heart, mind, and strength.
He then turns to what God does, or His activity: the creation of all things, the origin of spiritual creation, the sustenance of creation. The section culminates in a discussion of God's relation to His creation.
About the Author
Dr. Norman Geisler is author or coauthor of over sixty-eight books and hundreds of articles. He has taught at the university and graduate level for forty-eight years and has spoken or debated in all fifty states and in twenty-five countries. He holds a Ph.D. in philosophy from Loyola University and is the co-founder and long-time Dean of Southern Evangelical Seminary, in Charlotte, North Carolina.
Endorsements
A profound work from one of the finest theological and philosophical minds of our time.
Tremendous! Dr. Geisler's Systematic Theology is a book no library should be without. There are few other works as exhaustive in their approach or as erudite in their presentation. This is definitely something you can sink your teeth into.
Finally a systematic theology text that fully understands the essential philosophical and apologetic issues that make traditional theologies possible. In terms of philosophical support for theological claims about biblical truth, Geisler's is the most comprehensive text yet. This is an apologetic theology, and it is greatly needed in the experientialist environment we find ourselves in today.
Norm Geisler's Systematic Theology is a long overdue, and thus welcomed, contribution to the evangelical world, for it persuasively shows the importance and necessity of philosophical analysis in the theologian's craft. Dr. Geisler has a pastor's heart, a philosopher's mind, and a theologian's temperament. He's a cross between Thomas Aquinas and Billy Graham, and the result is this outstanding systematic theology.