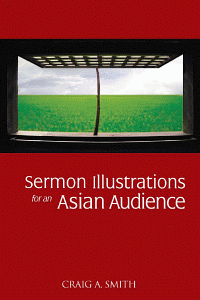 Sermon Illustrations for an Asian Audience
Highlights
Also available as a KINDLE download
Product Details
Have you ever had to deal with a sea of confused or blank faces after sharing an illustration with your audience? Illustrations, after all, are meant to clarify and help bring home the point. Here is a collection of illustrations for use with an Asian audience.
About the Author
Rev. Dr. Craig A. Smith is Professor of Biblical Studies and Chair of the Religion and Philosophy Department, Sterling College, Sterling, Kansas. From 1988-1990 Smith was the ordained Pastor of Zion United Methodist Church LaSalle, Michigan. In 1993 until 1995 he was the co-pastor of Grace Chinese Church Manila, in the Philippines. From 2001-2006 he was an Editorial Board Member of the Anvil Journal, London, England. Smith was the New Testament Consultant for the Diocese of Bath and Wells Bath, England from 2003-2006. Also, in 2003 he was part of the VOX Research Group into Teaching Homiletics, Durham, England. Until 2006 he was a member of the board of the British New Testament Society.
Reverend Smith is a song writer, an editor and has written numerous articles for journals here in the states and abroad. He has written several book reviews and has two more of his own books forthcoming. In 2008 he was a finalist for the Society of Biblical Studies Regional Scholar Award.