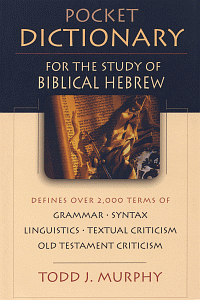 Pocket Dictionary for the Study of Biblical Hebrew
Highlights
Defines more than 2,000 terms
Covers terms used in grammar, syntax, linguistics, textual criticism and Old Testament criticism
Helps students use Hebrew grammars, lexicons and exegetical tools
Gives helpful examples of grammatical points
Product Details
Of Greek and Hebrew, Hebrew strikes the most fear in the heart of the Bible student. The alphabet does not look anything like English. The vocabulary offers almost no points of contact with English. The verb system is utterly alien. And the lexicons, grammars and textbooks are wrapped up in a metalanguage—spiked with Latin—that is daunting in itself. For those who feel that studying the English Old Testament is a challenge, the thought of reading it in Hebrew is extreme. Hebrew students need all the help they can get.
If you are beginning your study of Hebrew and the Hebrew Bible, this pocket dictionary by Todd J. Murphy is for you. From ablative to zaqeph qaton, it defines the tangled terms that infest Hebrew textbooks, grammars and lexicons. Here is a book that will deliver you from the perils of the Piel and the thicket of metathesis. It is an indispensable glossary that will cut through that technical language—neither Hebrew nor English—that hovers like ground fog over the study and discussion of biblical Hebrew. Now you can devote more time to enjoying biblical Hebrew in all its richness.
About the Author
Todd J. Murphy came to faith in Christ at the age of 19 previously having been immersed in the fertile skateboarding and underground music scene of the 1980's. This experience was very formative in for his philosophy of ministry and vision for planting churches that are culturally sensitive. He recognized how hard it was not only for triditional churches to reach kids like he was and the variety of people in the our divers culture, but more so to assimilate such diverse personalities into very rigid and traditional church cultures. This background was pivotal in his choice to join forces with the Acts 29 Church planting network, a ministry of Mars Hill Church in Seattle, Washington.
Todd has served in various lay and professional ministry capacities. He received his BA in Biblical studies from Liberty University. He completed his MA in Old Testament and Semitic Languages from Trinity Evangelical Divinity School, in Deerfield, Illinois where he also served as a Departmental tutor for Biblical Hebrew. He has also did work at Jerusalem University College, Mt. Zion Jerusalem, where he studied history and material culture of the Holy Land.
As a theological educator, Todd has also taught biblical studies for the Departement of Philosophy and Religion at Western Kentucky University, as well as adult Christian education classes in various ministry venues and is also the author of the Pocket Dictionary for the Study of Biblical Hebrew, a linguistic reference tool for students and scholars of Biblical Hebrew.
Todd's is currently founding a new Chuch Plant targeting Providence Rhode Island with Acts 29 and the Christian Reformed Chuch. Murphy is the founder of Kingdom Vision, a non-profit organization designed to creatively raise funds to support new church planting through the power of the Christian Church's consumer spending.
Endorsements
The Pocket Dictionary for the Study of Biblical Hebrew is well conceived and will provide a much-needed help for wading through technical jargon related to language learning in general and Hebrew language learning in particular. Its extensive scope is most impressive, and its copious cross-referencing is a very helpful feature. Any term I thought of was there, and I learned much by just rapidly reading through numerous entries. A sure bet to be a valued tool for Hebrew study.
Students from beginners to established scholars find themselves regularly in interaction with technical literature peppered with the arcane vocabulary common to every field of study. This is true of Old Testament Hebrew studies as well. The task of locating the definitions of such unfamiliar terms is time consuming and frustrating. Murphy's Pocket Dictionary meets this need in a clear and comprehensive way. Virtually every terminus technicus having to do with the study of biblical Hebrew is here. The order and logic of the lists and the clarity of the discussion make this tool a delight to use, one that will be indispensable to serious students of the Old Testament Scriptures.