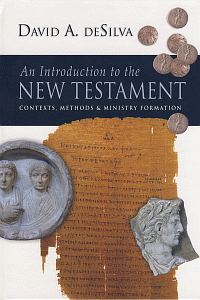 An Introduction to the New Testament
Contexts, Methods & Ministry Formation
Highlights
A 2005 Gold Medallion finalist
Introduces the New Testament as if both scholarship and ministry mattered
Features the social, cultural and rhetorical contexts of New Testament texts and authors
Discusses the implications of New Testament literature for ministry formation
Explores the historical and cultural environment of the New Testament era
Brims with maps, photos, points of interest and aids to learning
Product Details
Some introductions to the New Testament highlight the historical contexts in which the New Testament literature was written. This introduction gives particular attention to the social, cultural and rhetorical contexts of the New Testament authors and their writings.
Few introductions to the New Testament integrate instruction in exegetical and interpretive strategies with their customary considerations of authorship, dating, audience and message. This introduction capitalizes on the opportunities, introducing students to a relevant facet of interpretation with each portion of New Testament literature.
Rarely do introductions to the New Testament approach their task mindful of the needs of students preparing for ministry. This introduction is explicit in doing so, assuming as it does that the New Testament itself—in its parts and as a whole—is a pastoral response. Each chapter on the New Testament literature closes with a discussion of the implications for ministry formation.
These integrative features alone would distinguish this introduction from others. But in addition, its pages brim with maps, photos, points of interest and aids to learning. Separate chapters explore the historical and cultural environment of the New Testament era, the nature of the Gospels and the quest for the historical Jesus, and the life of Paul.
This introduction by David A. deSilva sets a new standard for its genre and is bound to appeal to many who believe that the New Testament should be introduced as if both scholarship and ministry mattered.
About the Author
David A. deSilva is Trustees' Distinguished Professor of New Testament and Greek at Ashland Theological Seminary in Ashland, Ohio. deSilva has specialized in the fields of Second Temple Judaism, the social and cultural environment of the first-century Greco-Roman world, the Epistle to the Hebrews, and the Revelation of John.
deSilva holds a BA from Princeton University; a Mdiv from Princeton Theological Seminary, specializing in New Testament Studies; and a Ph.D. in Religion from Emory University, with emphases on New Testament interpretation, Roman history, and sociology of religion.
He was promoted to associate professor in 1999 and a full professor in 2002, deSilva has published eleven academic books, including 4 Maccabees: Introduction and Commentary on the Greek Text (Brill, 2006), An Introduction to the New Testament: Contexts, Methods & Ministry Formation (InterVarsity, 2004), Introducing the Apocrypha (Baker Academic, 2000), Perseverance in Gratitude: A Socio-Rhetorical Commentary on the Epistle "to the Hebrews" (Eerdmans, 2000), and The Hope of Glory: Honor Discourse and New Testament Interpretation (Liturgical Press, 1999). He has also published over sixty articles in refereed journals, collections of essays, and reference works.
He has taken leadership roles in the Society of Biblical Literature as a member of several steering committees and founding program chair of the Rhetoric of Religious Antiquity seminar. In 2001, deSilva was elected to the Studiorum Novi Testamenti Societas. He received an Alexander von Humboldt research fellowship to study in Tuebingen, Germany, for the 2006-2007 academic year.
deSilva is an ordained elder in the Florida Conference of the United Methodist Church, and has served congregations as an organist and choir director since 1985. He has written extensively for adult Christian education and spiritual formation resources.
Endorsements
This introduction helpfully and without apology attends to both the intellectual and spiritual formation of the reader. . . . I am happy to commend this introduction to a whole range of readers--students, pastors and educated laypersons.