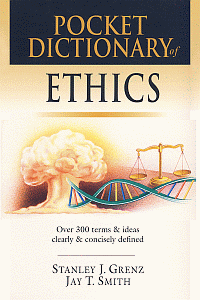 Pocket Dictionary of Ethics
Highlights
Introduces more than 300 terms related to the study of ethics
Covers ideas, issues, positions, thinkers, schools and specialties
Aids in your reading of textbooks or understanding of lectures
Helps you review for examinations in ethics courses
Product Details
Ethics is as old as the city-state and as new as cyberspace. Guided by the wagon tracks of moral tradition, it nevertheless rides the cutting edge of science and technology. Increasingly it is moving into the corner offices of law, business, medicine, science and technology.
But few of us arrive in our first ethics class—or take our seat on an ethics committee—with a grip on the range of ideas and thinkers, perspectives and pitfalls that make up this ancient conversation about what is good and right and moral. We may feel like college math students who slipped through high school without learning algebra.
The Pocket Dictionary of Ethics is a convenient boost to help you catch up.
Among the 300 definitions provided by Stanley J. Grenz and Jay T. Smith are:
terms, from altruism to virtue
issues, from animal rights to war
ethicists, from Saint Augustine to Peter Singer
perspectives, from Aristotelianism to utilitarianism
marketplace specialties, from advertising to technological ethics
Not only does this brief and convenient reference book take you where your desktop dictionary was not designed to go, it doubles as your basic A-to-Z survey or refresher course in ethics.
About the Authors
Stanley J. Grenz,(1950-2005), earned his Doctor of Theology degree at University of Munich in Germany. He was ordained to pastoral ministry in 1976. He later worked within the local church context as youth director and assistant pastor at Northwest Baptist Church, Denver, Colorado, 1971-1976, pastor of Rowandale Baptist Church, Winnipeg, Manitoba 1979-1981, and interim pastor on several occasions. He served on many Baptist boards and agencies and also as a consulting editor of Christianity Today.
While in the pastorate Grenz taught courses both at the University of Winnipeg and at Winnipeg Theological Seminary . He served as Professor of Systematic Theology and Christian Ethics at the North American Baptist Seminary, Sioux Falls, South Dakota from 1981-1990. From 1990-2002, Grenz held the position of Pioneer McDonald Professor of Baptist Heritage, Theology and Ethics at Carey Theological College and at Regent College in Vancouver. After a one-year sojourn as Distinguished Professor of Theology at Baylor University and George W. Truett Theological Seminary in Waco, Texas (2002-2003), he returned to Carey in August 2003 to resume his duties as Pioneer McDonald Professor of Theology. In fall 2004, he assumed an additional appointment as Professor of Theological Studies at Mars Hill Graduate School, Seattle, Washington. From 1996 to 1999 he carried an additional appointment as Professor of Theology and Ethics at Northern Baptist Theological Seminary, Lombard, Illinois.
Grenz' primary contributions were made discussing how evangelical Christianity ought to relate to the world. He wrote on a wide range of subjects, from sexuality to history to basic apologetics, and was one of North America's leading evangelical voices in the late 20th century and early 21st century. He was included in two editions of Who's Who in Religion, as well as in the 2002 edition of Who's Who in U.S. Writers, Editors and Poets. Grenz died in his sleep March 11, 2005 from a brain aneurysm.
Jay T. Smith has earned degrees from Howard Payne University (B.A.) Baylor University (M. Div.), Regent College, Vancouver, British Columbia (Th. M.), and Carey Theological College, Vancouver, British Columbia (D. Min.). He is completing his PhD at Trinity College - Bristol University in the United Kingdom. He currently serves as Assistant Professor of Christian Studies at Howard Payne University.
Dr. Smith's honors include the Outstanding Christian Studies Student award from Howard Payne University in 1996, an Outstanding Civilian Employee citation from US Naval Academy in 1993 and the Outstanding Graduate Theology Student Paper Award for the AAR-Pacific Northwest Region in 2002. Dr. Smith is a regular presenter at the American Academy of Religion.