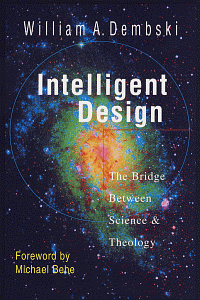 Intelligent Design
The Bridge Between Science & Theology
Highlights
2000 Book of the Year by Christianity Today
Readable rendering of the ideas found in Dembski's landmark work, The Design Inference
Argues that intelligent design provides a crucial link between science and theology
Product Details
The Intelligent Design movement is three things:
a scientific research program for investigating intelligent causes
an intellectual movement that challenges naturalistic evolutionary theories
a way of understanding divine action
Although the fast-growing movement has gained considerable grass-roots support, many scientists and theologians remain skeptical about its merits. Scientists worry that it's bad science (merely creationism in disguise) and theologians worry that it's bad theology (misunderstanding divine action). In this book William Dembski addresses these concerns and brilliantly argues that intelligent design provides a crucial link between science and theology.
Various chapters creatively and powerfully address intelligent discernment of divine action in nature, why the significance of miracles should be reconsidered, and the demise and unanswered questions of British natural theology. Effectively challenging the hegemony of naturalism and reinstating design within science, Dembski shows how intelligent design can be unpacked as a theory of information.
About the Author
William Dembski was born in Chicago, Illinois in 1960. He was educated at the Portsmouth Abbey School, at the time an all-male Catholic preparatory school. Finishing high school a year early, he attended the University of Chicago, but he struggled at it, and dropped out at the age of seventeen to work in his mother's art dealership. He says that he did not initially accept the precepts of Christianity, but during this difficult period he turned to the Bible in an effort to understand the world around him. Later, after becoming an Evangelical Christian, he read creationist literature. However, he did not accept the doctrines of literal creationists, though their criticisms of evolutionary theory did strike a chord in him.
Dembski returned to school at the University of Illinois at Chicago, where he studied psychology and statistics. He was awarded an M.S. in mathematics in 1985, and a Ph.D., also in mathematics, in 1988, both from the University of Chicago, after which he held a postdoctoral fellowship in mathematics from the National Science Foundation from 1988 until 1991, and another in the history and philosophy of science at Northwestern University from 1992–1993. He was awarded an M.A. in philosophy in 1993, and a Ph.D. in the same subject in 1996, both from UIC, and an M.Div from Princeton Theological Seminary, also in 1996.
He is currently Research Professor of Philosophy at Southwestern Baptist Theological Seminary in Fort Worth, Texas. Dembski has written numerous scholarly articles and is the author of the critically acclaimed The Design Inference and No Free Lunch: Why Specified Complexity Cannot Be Purchased without Intelligence.
Endorsements
Dembski has done a fine job of putting the ID and specified-complexity pieces of the puzzle in layman's terms.