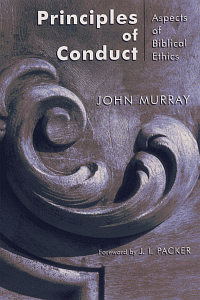 Principles of Conduct
Aspects of Biblical Ethics
Product Details
This modern theological classic study clearly shows the organic unity and continuity of the biblical ethic. John Murray addresses ethical questions relating to such topics as marriage, labor, capital punishment, truthfulness, Jesus' teaching in the Sermon on the Mount, law and grace, and the fear of God. Though the Ten Commandments furnish the core of the biblical ethic, Murray points the reader again and again to all of Scripture as the basic authority in matters of Christian conduct.
About the Author
John Murray (1898-1975) was born in Bonar Bridge Scotland. He was educated in Glasgow University, Princeton Theological Seminary, Th.B., Th.M., 1927 and New College, Edinburgh, Th.M., 1929. Murray joined the faculty at Westminster Seminary in 1929 where he taught systematic theology until his retirement in 1967. Murray was also an active Orthodox Presbyterian churchman. He attended meetings of the Presbytery of New York and New England whenever possible, and he served on several General Assembly committees, including the Committee on Foreign Missions, the Committee on Local Evangelism, the Committee on Texts and Proof Texts to the Westminster Standards, and the Committee to Revise the Form of Government and Book of Discipline. In 1947, along with William Young, he presented a Minority Report of the Committee on Song in Public Worship, where he argued that the Psalter was the exclusive hymnbook for the New Testament church. His most popular book, Redemption Accomplished and Applied, 1955, began as articles published in the Presbyterian Guardian, where he was a frequent contributor. Upon his retirement, Murray returned his native Scotland where he died on May 8, 1975, in the same town in which he was born.
Endorsements
Church elders know well that applying the Bible's teaching to ethical situations can be more difficult than it first appears. This work by John Murray helps us to learn to apply God's law to issues like marriage and divorce, truth-telling, and more.