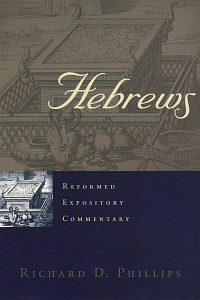 Reformed Expository Commentary: Hebrews
Product Details
"Few studies can be more profitable to Christians today than that of the Epistle to the Hebrews," says Richard Phillips. "Written...to a group of Jewish Christians facing persecution in the mid-first century A.D., the words of this book speak to Christians everywhere about standing firm in Jesus Christ."
Hebrews captures the challenges and pitfalls of people throughout the ages and shows both why and how to press on in the faith. Its message of warning and hope centers on the surpassing supremacy of Jesus, seen often from the vantage point of the Old Testament.
In keeping with the Reformed Expository Commentary series, this treatment of Hebrews is accessible to both pastors and lay teachers. Each volume in the series provides exposition that gives careful attention to the biblical text, is doctrinally Reformed, focuses on Christ through the lens of redemptive history, and applies the Bible to our contemporary setting.
About the Author
The Reverend Richard D. Phillips was elected senior minister-elect by the congregation of Second Presbyterian Church, on April 15, 2007. He came to Greenville from First Presbyterian Church of Coral Springs/Margate, FL, where he served as senior minister since 2002. Previously, he served as minister of preaching at historic Tenth Presbyterian Church in Philadelphia, PA. He holds degrees from the University of Michigan (BA), the University of Pennsylvania (MBA), and Westminster Theological Seminary (M. Div. with first honors).
Rev. Phillips served in the US Army for 13 years, holding command and staff positions in a number of combat units. While gaining his M.B.A. at the Wharton School of Business in Philadelphia, he was converted to faith in Christ through the preaching of the gospel at Tenth Presbyterian Church. A few years later, while serving as assistant professor of leadership at West Point and holding the rank of major, he and his wife were persuaded of God's call into the ordained ministry. Resigning from the Army, they moved back to Philadelphia to attend seminary.
While still in seminary, Rick became minister to a large inner-city outreach to singles and within a few years was preaching weekly at Tenth Presbyterian Church in downtown Philadelphia, the very church in which he was earlier converted and where he had met Sharon. During that time he also served on the staff of the Alliance of Confessing Evangelicals, a radio and publishing ministry led by Rick's mentor and senior pastor, James Montgomery Boice. He remains on the board of directors of that organization, currently serving as vice chairman. He also chairs the Philadelphia Conference on Reformed Theology, founded by Dr. Boice in 1974 and passed on to Rick's leadership after Dr. Boice's death in 2000. Rev. Phillips' preaching is heard nationwide on the radio program, God's Living Word.
Rev. Phillips focuses his ministry on what he refers to as the "3 P's": preaching, praying and pastoring. Additionally, God has called him to a writing ministry and he regularly authors books and articles. Among his twenty-one books, his most recent include a commentary on Zechariah, Jesus the Evangelist, and most recently What's So Great About the Doctrines of Grace. Rev. Phillips frequently speaks at conferences on the Bible and theology and is active in overseas missions, especially in East Africa.
Endorsements
Richard Phillip's Hebrews is faithful to the text, cordially committed to confessional Reformed orthodoxy, and alert to practical implications for the life of the church. Phillips keeps the focus where it is for the writer of Hebrews: on God's 'last days' speaking 'in His Son.' This volume, which can be read with profit by a wide audience, should serve to remedy the relative neglect of this important New Testament book in the proclamation and life of the churches of the Reformation. Along with other volumes in this series, this commentary should contribute to preaching and teaching that more fully echo the whole counsel of God.
The first liturgical reform of the Protestant Reformation was the implementation of lectio continua expository preaching in Zurich in 1519. Sequential Bible exposition has been a hallmark of Reformed Protestantism ever since. It is heartening to see the Reformed Expository Commentary series emerging to encourage the continuation of this great heritage of preaching. Richard D. Phillips is among the most gifted young preachers of our day. In his hands, Hebrews receives the kind of careful, scholarly, contemporary, and practical exposition that is so desperately needed today.
Hebrews emphasizes that God still speaks about Christ and his people through his written Word. Phillip's expository addresses ring with that authenticity, whether by way of admonition or assurance.
An outstanding provision for pastors engaged in regular pulpit ministry. Those of us who regularly preach need commentaries that provide the best biblical scholarship and also understand the challenges of today's pastorate. The Reformed Expository Commentary series, prepared by Reformed preachers of great scholarly ability, ably speaks to both needs.