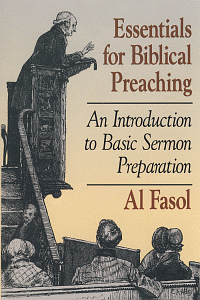 Essentials for Biblical Preaching
An Introduction to Basic Sermon Preparation
Product Details
Learning a new art requires a knowledge of the fundamentals, and the art of preaching is no exception. In Essentials for Biblical Preaching veteran homiletician Al Fasol covers every aspect the aspiring preacher needs to know. It can be used effectively on either the graduate or undergraduate level.
After surveying the history of preaching, Fasol offers practical guidelines, peppered with examples, for preparing and delivering effective sermons. Topics include collecting sermon ideas, interpreting the biblical text, organizing the sermon, using illustrations, making applications, varying sermon methods, and employing communication principles.
About the Author
Al Fasol is distinguished professor of preaching at Southwestern Baptist Theological Seminary in Fort Worth, Texas. He has taught at Southwestern since 1973. In 1961 Fasol pastored the Royalton First Baptist in Illinois and also served 18 months as interim pastor at Second Baptist Church in Little Rock, Arkansas. He graduated from Southern Illinois University and received his M.Div. and Th.d. from Southwestern Baptist Theological Seminary.
Endorsements
This helpful book is exactly as it claims to be - a basic introduction to most of the concepts, terms, forms, and resources essential for the beginning lay or professional pulpiteer. As a simple, concise, and practical foundation, it provides an excellent introductory volume, effectively orienting would-be biblical preachers.