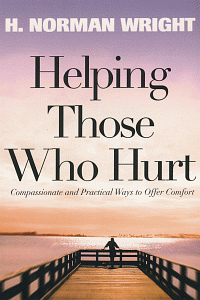 Helping Those Who Hurt
Compassionate and Practical Ways to Offer Comfort
Product Details
Throughout our lifetimes, we'll find ourselves in the uncomfortable position of not knowing what to say to a friend suffering a loss or trauma. But not doing anything brings more harm than good. As Christians, it is not a question of whether or not to help, but how and when to lend a hand. In the newly revised Helping Those Who Hurt, H. Norman Wright offers practical and sensitive ways to help friends suffering a divorce, the loss of a spouse, a diagnosis of cancer, and other traumas. Specific suggestions tell you not only what to do but what not to do.
Norm is not only a licensed therapist and certified trauma specialist, he also suffered loss with the death of his son at a young age. He writes this guide as a person who knows firsthand about helping others through trauma.
About the Author
H. Norman Wright is a licensed Marriage, Family and Child Therapist. He was former director of the Graduate Department of Marriage, Family and Child Counseling at Biola University, as well as an associate professor of Christian Education and Director of the Graduate Department of Christian Education at the Talbot School of Theology. He has conducted lectureships at several seminaries, including the North American Baptist Seminary, Asbury Theological Seminary, and Western Conservative Baptist Seminary. He is an adjunct professor in the Doctor of Ministry degree program at Trinity Evangelical Seminary in Deerfield, IL, Western Seminary and at Talbot School of Theology. He has taught graduate school for over thirty years and is now the Director of Christian Marriage Enrichment. He was in private practice for over thirty years. Dr. Wright is a graduate of Westmont College, Fuller Theological Seminary (M.R.E.), Pepperdine University (M.A.). He has received two honorary doctorates, D.D. and D.LIT, from the Western Conservative Baptist Seminary and Biola University respectively. He is currently on the Executive Board for the AACC, the Advisory Board for Family Studies at Pepperdine University, the Advisory Board for the Center for Marriage and Family Studies of John Brown University and Research Professor in Christian education at Talbot School of Theology. He is the author of over sixty books ­ including: Always Daddy's Girl, The power of a Parent's Words, Quiet Times for Couples, Crisis Counseling, Recovering from the Losses of Life, Marriage Counseling, and the Premarital Counseling Handbook. Dr. Wright has pioneered Premarital Counseling programs throughout the country. He conducts seminars on Parenting, Recovering from the Losses of Life, Trauma and Crisis Counseling, and Marriage Enrichment.