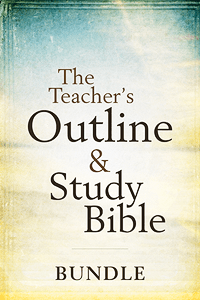 TOSB-Teacher's Outline and Study Bible Bundle (16 Volumes)
Highlights
Makes Bible study preparation fast and easy
Each volume includes: outlines, commentary, questions, illustrations, applications and summaries.
Great for teachers and students of the Bible
Product Details
If you teach a Bible study group, The Teacher's Outline & Study Bible is just for you. You'll love the ease of use and solid Bible-based teaching. Each volume contains 4 months of weekly lessons, 35-45 minutes in length.
The Teacher's Outline and Study Bible features:
Bible Outlines - All scripture outlined, verse by verse, highlighting the main points of the passage.
Inspiring Commentary - Practical commentary on each verse and point makes it easier to teach and understand.
Study Questions - Thought-provoking questions draw your students into the lesson at their need level.
Illustrations - Insightful illustrations uphold the principles of Scripture.
Applications - Real-life application of the Scripture promotes spiritual growth
Summaries - Lesson summary brings it all together and helps you restate the points your students need to remember most.
Currently, 16 Teacher's Outline And Study Bible volumes are available. They can be ordered as a set or by individual volume.
Endorsements
After 40 years of teaching the Bible, this tool is the best I have ever used, bar none!
The Teachers Outline and Study Bible has really helped me and my discipleship class grow in the Lord Jesus Christ.
Products Included In This Bundle