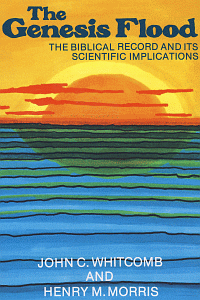 The Genesis Flood
The Biblical Record and Its Scientific Implications
Highlights
#22 Of The Top 50 Books That Have Shaped Evangelicals
Product Details
When The Genesis Flood first appeared reviewers predicted that it would be quoted, referred to, and widely discussed in the years ahead. Carefully written and well-documented, the book has since become a classic apologetic for Biblical creationism and the universality of the Flood described in the Book of Genesis.
The authors, each a recognized scholar in his field, frankly and unabashedly affirm their belief in the verbal inspiration of Scripture and its inerrancy and infallibility. They delineate the inadequacies of uniformitarianism and evolution and proceed to present a Biblically based system of creationism and catastrophism. They stress the philosophic and scientific necessity of a "creation of apparent ages," as well as the importance of geologic and hydrologic catastrophes, especially that of the great Deluge during the days of Noah. Replete with scientific data from the disciplines of hydrology, geology, and archaeology, The Genesis Flood asks the reader to consider the reorientation of pertinent scientific data within the framework of Biblical creationism and catastrophism. Many illustrations, charts, and diagrams, along with extensive indices, aid the reader in the quest for a harmonization of the Biblical record and scientific data. Opposing viewpoints are given careful and courteous treatment.
About the Authors

John C. Whitcomb graduated from McCallie School in Chattanooga Tennessee in 1942 then went to Princeton University where he gained a BA with honors in ancient and European history in 1948. Whitcomb attended Grace Theological Seminary receiving a B.D. degree and received the Th.M. degree in 1953 and Th.D. degree in 1957. From 1951 to 1990 he taught at Grace Theological Seminary's Old Testament and Christian Theology departments.
Among the books he has written are The Early Earth, The World That Perished, and A History of Israel (co-authored). He has also contributed numerous articles to theological journals and Bible dictionaries. He serves as president of Whitcomb Ministries, Inc., as an ordained elder in the Conservative Grace Brethren Churches, International, and as a speaker for Answers in Genesis.
Henry M. Morris was born in Dallas in 1918 and grew up in Texas in the 1920s and 1930s. He graduated from Rice University with a bachelor's degree in civil engineering in 1939. He married Mary Louise on January 24, 1940, and they later had five children. After his graduation in 1939, and through 1942, he was a hydraulic engineer working with the International Boundary and Water Commission. He returned to Rice, teaching civil engineering from 1942 until 1946. In 1946 he wrote a short book entitled That You Might Believe, in which he made an effort to attack evolution. From 1946 through 1951, he worked at the University of Minnesota, where he was awarded a master's degree in hydraulics (1948) and a Ph.D. in hydraulic engineering (1950).
In 1951 he became a professor and chair of civil engineering at the University of Louisiana at Lafayette. He then served as a professor of applied science at Southern Illinois University, 1956—1957, and subsequently as professor of hydraulic engineering and in civil engineering at the Virginia Polytechnic Institute and State University Virginia Tech, again serving as the department chair.
In 1963 Morris and nine others founded the Creation Research Society. Morris resigned from his position at Virginia Tech in 1969. In 1970, he founded the Institute for Creation Research in Santee, California and his son, John D. Morris, took over the presidency of ICR when he retired.
While the greater bulk of his published writings address creation science and evolution themes, he also wrote Many Infallible Proofs, and The Bible Has The Answer, which are both works of general Christian apologetics.
On February 1, 2006, Morris suffered a minor stroke and was hospitalized. Morris was moved from the hospital to a rehabilitation facility near his son's home in Santee, California where he died just a few weeks later.