Systematic Theology
An Introduction to Biblical Doctrine
Author: Wayne Grudem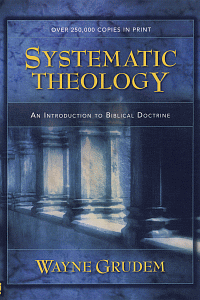 Product Highlights
Over 200,000 copies in print
Named as one of the 850 Books for Biblical Expositors by the Master's Seminary
Named by the R. C. Ryan Center for Biblical Studies as one of the Best Tools for Preaching and Teaching
Product Details
Wayne Grudem defines systematic theology as "any study that answers the question, 'What does the whole Bible teach us today?' about any given topic."
The Christian church has a long tradition of systematic theology, that is, studying theology and doctrine organized around fairly standard categories such as the Word of God, redemption, and Jesus Christ. This introduction to systematic theology has several distinctive features:
A strong emphasis on the scriptural basis for each doctrine and teaching
Clear writing, with technical terms kept to a minimum
A contemporary approach, treating subjects of special interest to the church today
Frequent application to life
Resources for worship with each chapter
Bibliographies with each chapter that cross-reference subjects to a wide range of other systematic theologies
About the Author
Wayne A. Grudem, born 1948, holds a BA from Harvard University, a Master of Divinity from Westminster Theological Seminary, and a PhD from the University of Cambridge. In 2001, Grudem became Research Professor of Theology and Biblical Studies at Phoenix Seminary. Prior to that, he had taught for twenty years at Trinity Evangelical Divinity School, where he was chairman of the department of Biblical and Systematic Theology.
Grudem served on the committee overseeing the English Standard Version translation of the Bible, and from 2005 to 2008 he served as General Editor for the 2.1 million-word ESV Study Bible. In 1999 he was the president of the Evangelical Theological Society. He is a co-founder and past president of the Council on Biblical Manhood and Womanhood. He is the author of, among other books, Systematic Theology: An Introduction to Biblical Doctrine, which advocates a Calvinistic soteriology, the verbal plenary inspiration and inerrancy of the Bible, the body-soul dichotomy in the nature of man, and the complementarian view of gender relationships. Grudem also edited, with John Piper, Recovering Biblical Manhood and Womanhood, which was named "Book of the Year" by Christianity Today in 1992.
Grudem holds to noncessationist Charismatic beliefs and was at one time a qualified supporter of the Vineyard Movement and one of the main apologists and spokesmen for reuniting Charismatic, Reformed, and Evangelical churches.
Critical Reviews
Wayne Grudem understands that every Christian "does theology," that doctrine inevitably finds its application in the believer's life. Clearly written, this volume demonstrates an appreciation for the rich diversity of traditions within the body of Christ while at the same time reminding us that our faith is rooted in historic Christian truth.
Systematic Theology is remarkable for its extraordinary juxtapositions. It is penetrating but not confusing; forthright and unequivocal but not reckless or overstated; readable and clear but not superficial; biblically grounded, even biblically saturated, but not textually careless or glib; devout and reverent but not uncritical or naive; practical but not trendy or sentimental; comprehensive but not majoring on minors; a book for the church but not parochial or sectarian. I expect to turn to it for decades.
Grudem has opened the windows to let fresh air blow away mustiness and permit the Holy Spirit to infuse soundly biblical, clearheaded evangelical theology with new life and power.
If you were hoping to find a theology that seeks your spiritual no less than your intellectual formation, rejoice: Wayne Grudem has written exactly what you wanted, and he has done so very competently indeed.
Systematic Theology by Wayne Grudem is a fair-minded, thorough text in systematic theology--the best I have seen in recent years in terms of convenient organization, clarity, and a willingness to tackle the most salient issues of the day. This is an admirable blending of the scholarly and devotional elements seldom achieved in academic books.
Altogether a magnificent achievement which deserves to be widely used among evangelicals.