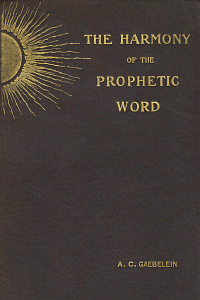 The Harmony of the Prophetic Word
A Key to Old Testament Prophecy Concerning Things to Come
Product Details
The harmony which exists throughout the Bible, from Genesis to Revelation, is one of the strongest arguments for the plenary inspiration of the Scriptures. The unity which we find here is superhuman; it is Divine. The inspired writers of the Bible cover a period of almost two thousand years, living in so many different ages and under different circumstances, yet all agree perfectly, and there is no clash of opinions. The unity is a miracle. No human genius or human endeavor could produce it. There is nothing like it in all the literary products of men, and there will be nothing like it in the future. This unity is especially found powerful in the prophetic word. We find a great testimony concerning them, and it is the intent of this book to bring them together for the beginner student to study and examine as a collective whole. The subject of revealed future and revelation is assembled and analyzed so that the reader might find a full introduction to the united prophetic themes found in the Word of God.
About the Author
Arno Clemens Gaebelein (1861-1945) was born in Thuringia, Germany, immigrated to the United States, and settled in Lawrence Massachusetts. Early in his career he served as a Methodist minister, teacher, and conference speaker, but eventually left the Methodist church over issues of higher critical thought.
Gaebelein was a leader in the dispensationalist movement, and his books Revelation, and Analysis and Exposition and Current Events in the Light of the Bible explain the dispensationalist view of eschatology. He also served as the editor of Our Hope, a Christian periodical, for a number of years and was a close assistant to Dr. Cyrus Ingerson Scofield on his monumental work, the Scofield Reference Bible.
Endorsements
Perhaps the most persistent, faithful witness for over fifty years to the imminent return of our Lord for all His saints, that the Church has had in America.