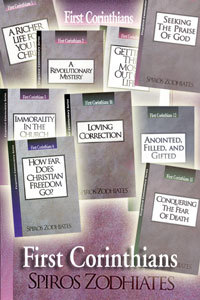 Exegetical Commentary on First Corinthians
Sixteen Volumes
Highlights
Exegetical Commentary Series
Product Details
Exegetical Commentary on First Corinthians is a unique, verse-by-verse, sixteen-volume study on Paul's great epistle. Zodhiates takes each chapter of the book and devotes an entire volume to its study and application. Full of detail, careful attention to proper interpretation, common sense, practical applications, and helpful stories, this commentary is a great resource for any student of God's Word.
The volumes included:
Volume 1: A Richer Life for You in Christ
Volume 2: A Revolutionary Mystery
Volume 3: Getting the Most Out of Life
Volume 4: Seeking the Praise of God
Volume 5: Immorality in the Church
Volume 6: How Far Does Christian Freedom Go?
Volume 7: May I Divorce and Remarry?
Volume 8: Where Does Christian Freedom End?
Volume 9: Victory Through Discipline
Volume 10: Accommodating Christians
Volume 11: Is Conformity to Customs Necessary in the Church?
Volume 12: Anointed, Filled, and Gifted
Volume 13: To Love is To Live
Volume 14: Speaking in Tongues and Public Worship
Volume 15: Conquering the Fear of Death
Volume 16: Loving Correction
About the Author

Spiros Zodhiates was born to Greek parents on the island of Cyprus in 1922. After completing his Greek education, he attended the American University in Cairo, Egypt, The National Bible Institute (now Shelton College), and New York University. He earned his Doctor of Theology degree from Luther Rice Seminary. In addition, Dr. Zodhiates has been the recipient of several honorary doctorates.
In 1946, he came to the United States at the invitation of the American Mission to the Greeks, Inc. At that time, there were two part-time employees who met in a small, one-room office. Dr. Zodhiates became president of this organization in 1966. Now known as AMG International ('Advancing the Ministries of the Gospel'), it carries on a worldwide evangelistic and relief ministry and has its headquarters in Chattanooga, Tennessee.
Dr. Zodhiates is a recognized authority on the Greek New Testament, and has edited an edition of the Modern Greek New Testament that was published by the Million Testaments Campaign and the American Bible Society. He is the author of numerous exegetical books and booklets in both the Greek and English languages. In addition, he was heard daily on the New Testament Light radio program, released over a network of stations across the United States and Canada.
After suffering numerous health problems in the late 1990s, Zodhiates transitioned out of active work, though many of his commentary manuscripts are still being edited and published, and his radio and television recordings are being redistributed digitally. He died in Chattanooga on October 10, 2009.