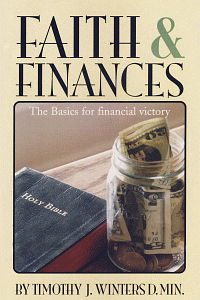 Faith and Finances
The Basics for Financial Victory
Product Details
Faith and Finances focuses on the biggest problem most people have with money - Money Management. This book treats the cause of money problems not the symptoms. The emphasis of this manuscript is to help Christians skillfully use all the Bible Principles relating to money.
About the Author
Timothy J. Winters is pastor of the Bayview Baptist Church of San Diego, California. He is a dynamic and inspirational gospel preacher. His powerful, Bible-based sermons directed toward "Reaching the Lost and Teaching the Saved to Serve" make him one of the most sought after preachers in the nation. Pastor Winters' deep knowledge and understanding of the Word, coupled with his ability to "make it plain" has earned him the reputation as an outstanding Bible expositor. He has done extensive research and conducted numerous seminars and workshops in the area of Christian Money Management (Debt-free Living), evangelism and discipleship, and church growth. Pastor Winters' leadership and influence is nationally acclaimed.
Pastor Winters is a graduate of San Diego City College, United States International University, and Glendale Graduate School of Theology. He received his Doctor of Ministry degree and graduated with distinction from United Theological Seminary, Dayton, Ohio in December 1997. Pastor Winters also received an honorary Doctor of Divinity Degree from the historic Bishop College of Dallas, Texas in 1986. The Smithsonian Institute and Cochran Gallery's Songs of My People art exhibit and B.E.T. Network selected Pastor Winters as one of San Diego's 100 African American role models. He was honored for outstanding leadership in the city of San Diego and featured personality in Black Economic News, San Diego, CA. He is the recipient of many other awards and commendation.
Timothy J. Winters was called to ministry in 1969 and ordained in 1971. He was called to Bayview in June 1973. Under his leadership and ministry, Bayview has grown from a membership of less than 60 families that met in a converted three-bedroom house, to a vibrant, thriving, and growing congregation of over 2,500. The church edifice is now a multi-level, multi-purpose building that accommodates an audience of 1,200. Pastor Winters' ministry is highlighted by two churches that were: "planted" through his visionary leadership. They are both now thriving independent congregations. The 40,000 square foot Martin Luther King, Jr. Christian Center was completed in May 1995 to accommodate Bayview's ever-expanding Christian Education ministry, and to meet the needs of the community. It houses Nubia Leadership Academy, the first church-based Charter School in California. Nubia began in September 1997 with an enrollment of 170 students in Grades K-5. The next grade level will be added each year.
Endorsements
The New Covenant Church has not been the same since Dr. Winters shared the Biblical Debt-Free principles along with Grace Giving. This book will revolutionize the thinking action of Christians about money.