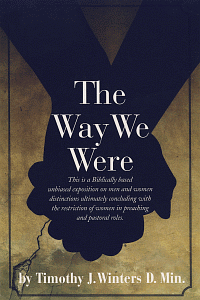 Highlights
A Biblically based, unbiased exposition on men and women distinctions ultimately concluding with the restriction of women in preaching and pastoral roles.
Product Details
There are few issues today as contentious as that of the role of women in the home and the church. As soon as the topic is mentioned the battle lines are quickly drawn. The cultural bent toward secular humanism wars against absolute Biblical truth even in the Christian church. And, to make matters worse, the autonomy of the local church lends itself to differing practices that conflict with one another and more importantly God's Word. What we are left with is a colossal mess!
This book is offered to boldly declare, without compromise, that God's Word is unchanging and has direct application to our lives as Christian men and women, and how we relate to one another. The Way We Were is a scholarly look at an issue that threatens the survival of the American family and the Christian Church. This book is practical, Biblical, personal, and theological. It is relevant, reliant, and resourceful in the truths that have been set out, and it is written in the hope that it will be embraced with acceptance, understanding, and the power that changes lives.
About the Author
Timothy J. Winters is pastor of the Bayview Baptist Church of San Diego, California. He is a dynamic and inspirational gospel preacher. His powerful, Bible-based sermons directed toward "Reaching the Lost and Teaching the Saved to Serve" make him one of the most sought after preachers in the nation. Pastor Winters' deep knowledge and understanding of the Word, coupled with his ability to "make it plain" has earned him the reputation as an outstanding Bible expositor. He has done extensive research and conducted numerous seminars and workshops in the area of Christian Money Management (Debt-free Living), evangelism and discipleship, and church growth. Pastor Winters' leadership and influence is nationally acclaimed.
Pastor Winters is a graduate of San Diego City College, United States International University, and Glendale Graduate School of Theology. He received his Doctor of Ministry degree and graduated with distinction from United Theological Seminary, Dayton, Ohio in December 1997. Pastor Winters also received an honorary Doctor of Divinity Degree from the historic Bishop College of Dallas, Texas in 1986. The Smithsonian Institute and Cochran Gallery's Songs of My People art exhibit and B.E.T. Network selected Pastor Winters as one of San Diego's 100 African American role models. He was honored for outstanding leadership in the city of San Diego and featured personality in Black Economic News, San Diego, CA. He is the recipient of many other awards and commendation.
Timothy J. Winters was called to ministry in 1969 and ordained in 1971. He was called to Bayview in June 1973. Under his leadership and ministry, Bayview has grown from a membership of less than 60 families that met in a converted three-bedroom house, to a vibrant, thriving, and growing congregation of over 2,500. The church edifice is now a multi-level, multi-purpose building that accommodates an audience of 1,200. Pastor Winters' ministry is highlighted by two churches that were: "planted" through his visionary leadership. They are both now thriving independent congregations. The 40,000 square foot Martin Luther King, Jr. Christian Center was completed in May 1995 to accommodate Bayview's ever-expanding Christian Education ministry, and to meet the needs of the community. It houses Nubia Leadership Academy, the first church-based Charter School in California. Nubia began in September 1997 with an enrollment of 170 students in Grades K-5. The next grade level will be added each year.
Endorsements
One of the great issues in our nation today is the matter of gender. There has been an on-going power struggle between men and women and it has resulted in wrecked homes, churches in shambles, communities falling apart, nerves are on edge and Satan having a ball. The Way We Were gives focus to the destiny of men and women.
The Way We Were is presented with freshness and provocative insight that reflects the scholarly study of a serious student of Scripture. This book reveals to us how to find fulfillment in functioning according to our designed purpose by seeking to do NO MORE or NO LESS than God's design and desire for our destiny.
This book is challenging not only because of its Biblical accuracy, but also because of error that is being advanced today. Some of the controversial subjects that are dealt with in The Way We Were will be helpful to many pastors who have been looking for insight and direction. Dr. Winters' book is a call for loyalty to the Word of God rather than popular views that are ever changing but can not satisfy our soul.
Thank you, Pastor Winters, for your courage and boldness in dealing with the provocative and challenging issue. The Way We Were is a must-read for all who serve in Christian leadership.