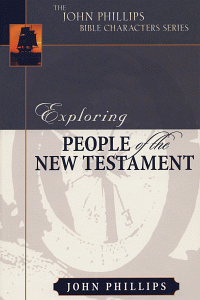 Exploring People of the Bible
Highlights
One of the most requested books by our customers
4 volumes on Bible characters
Wordsearch exclusive
Product Details
Many pastors, teachers, and students have grown to rely on the John Phillips Commentary series for its sound and practical exposition of Scripture. Written in the same tradition, the Exploring People of the Bible series examines the lives of biblical personalities great and small and shows how their lives are still applicable to today's Christian. This four-volume set includes all of Phillips's Exploring People of the Bible titles.
About the Author
John Phillips has been teaching and writing about the Bible for a lifetime. Born in Britain, he moved to Canada after World War II, where he founded and pastored a small church. Dr. Phillips later joined the staff of Moody Bible Institute where he served for twenty-five years.
Phillips served as the Assistant Director of the Moody Correspondence School and spoke regularly over the Moody network. He also taught in the Moody Evening Extension School. During those years he authored his first three books - Exploring the Scriptures, Exploring Romans, and Exploring Revelation.
To date he has authored over fifty books, including a complete set of New Testament Commentaries. Currently he travels much of the year nationwide preaching and teaching at churches, schools, and Bible conferences. Now retired, Dr. Phillips and his wife, Betty, live in Bowling Green, Kentucky.
Endorsements
John Phillips writes with enthusiasm and clarity,... cutting through the confusion and heretical dangers associated with Bible interpretation.
No one analyzes the biblical text better than John Phillips. I have benefited greatly from his commentaries and recommend them heartedly to pastors, teachers and Bible students everywhere
Dr. Phillips has the rare gift of bringing diverse Scripture passages together so that we see beautiful patterns in that Scripture, and as a result, better understand the big picture.
If John Phillips were an artist, he would be numbered among the masters. Paper is his canvas, words are his oils, and the pen is his brush. With these instruments he has produced the Exploring commentaries and books. For more than twenty-five years, John Philips' books have been my companions. As a busy pastor, I turn to them for instruction, illumination, illustration, and even alliteration - and I never go away disappointed!