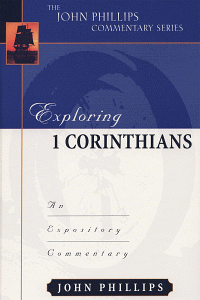 Highlights
One of the most requested books by our customers
WORDsearch exclusive
Product Details
Books in the John Phillips Commentary Series are designed to provide pastors, Sunday school teachers, and students of the Scripture with doctrinally sound interpretation that emphasizes the practical application of Bible truth. Working from the familiar King James Version, Dr. Phillips not only provides helpful commentary on the text, but also includes detailed outlines and numerous illustrations and quotations. Anyone wanting to explore the meaning of God's Word in greater depth—for personal spiritual growth or as a resource for preaching and teaching—will welcome the guidance and insights of this respected series.
About the Author
John Phillips has been teaching and writing about the Bible for a lifetime. Born in Britain, he moved to Canada after World War II, where he founded and pastored a small church. Dr. Phillips later joined the staff of Moody Bible Institute where he served for twenty-five years.
Phillips served as the Assistant Director of the Moody Correspondence School and spoke regularly over the Moody network. He also taught in the Moody Evening Extension School. During those years he authored his first three books - Exploring the Scriptures, Exploring Romans, and Exploring Revelation.
To date he has authored over fifty books, including a complete set of New Testament Commentaries. Currently he travels much of the year nationwide preaching and teaching at churches, schools, and Bible conferences. Now retired, Dr. Phillips and his wife, Betty, live in Bowling Green, Kentucky.
Endorsements
John Phillips writes with enthusiasm and clarity,... cutting through the confusion and heretical dangers associated with Bible interpretation.