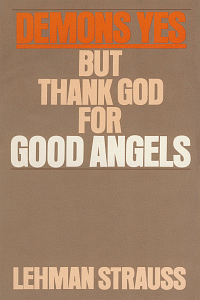 Demons Yes but Thank God for Good Angels
Product Details
"There are two supernatural forces contending for the mastery of man; they are God and Satan. Both cannot control a person at the same time. So when a man abandons God, the force of evil will take control."
This timely volume takes a Scriptural and non-sensational look at the working of evil in our day, and the Christian's triumph over it through the ministry of angels and a grounding in the Word of God.
Nine practical chapters include:
The God of this World
Satan's Influence in Governments
Satan's Ecumenical Church
Dark Days Are Ahead
Thank God for Good Angels
The Heart of the Problem and Its Solution
About the Author
Lehman Strauss taught Old Testament history for eight years at Philadelphia Bible Institute and served as pastor of the Calvary Baptist Church in Bristol, Pennsylvania from 1939 to 1957. Strauss served as pastor of Highland Park Baptist Church (Highland Park, Michigan) until the end of 1963 when he resigned to devote himself to a full-time itinerant Bible conference and evangelistic ministry both in the States and abroad. Strauss taught on the national weekly radio broadcast, "Bible Study Time." Dr. Strauss was residing in Florida and writing his 19th book at the age of 86 when the Lord called him home in June 1997.
Endorsements
A study predominantly of Satan and demons that relates the biblical material to Christian Living, world governments and the future.