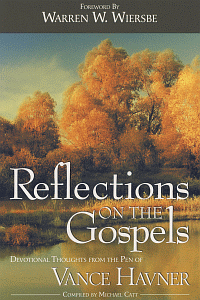 Reflections on the Gospels
Devotional Thoughts from the Pen of Vance Havner
Highlights
Forward by Warren Wiersbe
Product Details
Vance Havner's Reflections on the Gospels was rescued by Michael Catt from a collection of newspaper columns and compiled for the first time into book form. The result is a wonderful devotional volume that gives insight into God's Word through the eyes of this great preacher. Whether you use this book as a personal devotional or as a study tool, you'll find it an enlightening and inspiring opportunity to spend a few moments with a New Testament prophet.
Endorsements
Vance Havner was the most quotable preacher I have ever heard.
No one has done more to stir the fires of revival than Vance Havner
Vance Havner was a prophet of righteousness and revival. His diagnosis of the world and church conditions revealed a supernatural discernment that astounded audiences.