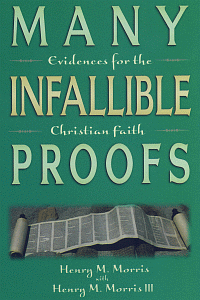 Many Infallible Proofs
Evidences for the Christian Faith
Product Details
Christians today - especially in America - are woefully ignorant about the Bible, and what impact it can have on a world in darkness. This despite the words of 1 Peter 3:15: "But in your hearts set apart Christ as Lord. Always be prepared to give an answer to everyone who asks you to give the reason for the hope that you have."
Thankfully, scholars like Henry Morris have seen fit to provide us with good answers posed by Bible critics...and by multitudes of Christians, for Christ himself has provided us with many infallible proofs (Acts 1:2-3).
In this book, Christians will be strengthened with these topics:
Problems in Verbal Inspiration
Fulfillment of Prophecy
The Structure of Scripture
Alleged Bible Contradictions
The Bible and Science
The Bible and Ancient History
The Unique Birth of Christ
About the Author

Morris was born in Dallas in 1918 and grew up in Texas in the 1920s and 1930s. He graduated from Rice University with a bachelor's degree in civil engineering in 1939. He married Mary Louise on January 24, 1940, and they later had five children. After his graduation in 1939, and through 1942, he was a hydraulic engineer working with the International Boundary and Water Commission. He returned to Rice, teaching civil engineering from 1942 until 1946. In 1946 he wrote a short book entitled That You Might Believe, in which he made an effort to attack evolution. From 1946 through 1951, he worked at the University of Minnesota, where he was awarded a master's degree in hydraulics (1948) and a Ph.D. in hydraulic engineering (1950).
In 1951 he became a professor and chair of civil engineering at the University of Louisiana at Lafayette. He then served as a professor of applied science at Southern Illinois University, 1956—1957, and subsequently as professor of hydraulic engineering and in civil engineering at the Virginia Polytechnic Institute and State University Virginia Tech, again serving as the department chair.
In 1961, Morris and John C. Whitcomb wrote The Genesis Flood, which advocated creationism and flood geology. In it he cited an influence by George McCready Price, a Seventh-day Adventist schoolteacher and defender of creationism in the early 20th century. In 1963 Morris and nine others founded the Creation Research Society. Morris resigned from his position at Virginia Tech in 1969. In 1970, he founded the Institute for Creation Research in Santee, California and his son, John D. Morris, took over the presidency of ICR when he retired.
While the greater bulk of his published writings address creation science and evolution themes, he also wrote Many Infallible Proofs, and The Bible Has The Answer, which are both works of general Christian apologetics.
On February 1, 2006, Morris suffered a minor stroke and was hospitalized. Morris was moved from the hospital to a rehabilitation facility near his son's home in Santee, California where he died just a few weeks later.