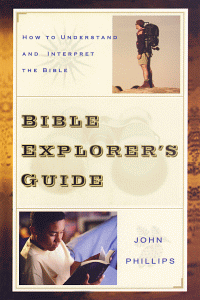 Bible Explorer's Guide
How to Understand and Interpret the Bible
Highlights
One of the most requested books by our customers
WORDsearch exclusive
Product Details
Serious study of the Bible can be a daunting task for any Christian. The desire to explore God's Word is the beginning of the process. Bible explorers also need proper tools and an experienced guide to lead the adventure through the Scriptures.
There is no better guide for this exploration than one who has spent his life leading people at every level of training on journeys into the wonders of Scripture. John Phillips provides the proper tools as well as the wise, sensible guidance to help any believer dig into the Scriptures and search out their meaning and significance. In the Bible Explorer's Guide, Dr. Phillips provides the ground rules for handling God's Word-including the "Golden Rule" for studying Scripture; symbols in the Bible's discussion of covenants and dispensations; and interpreting types, parables, and prophecy. It also offers practical "maps" and resources to aid in a discovery study-a survey of Scripture, a harmony of the Gospels, and summaries of Bible history and names.
If you are looking for a serious but understandable guide to studying the Bible, look no further. The Explorer's Guide is your handbook.
About the Author
John Phillips has been teaching and writing about the Bible for a lifetime. Born in Britain, he moved to Canada after World War II, where he founded and pastored a small church. Dr. Phillips later joined the staff of Moody Bible Institute where he served for twenty-five years.
Phillips served as the Assistant Director of the Moody Correspondence School and spoke regularly over the Moody network. He also taught in the Moody Evening Extension School. During those years he authored his first three books - Exploring the Scriptures, Exploring Romans, and Exploring Revelation.
To date he has authored over fifty books, including a complete set of New Testament Commentaries. Currently he travels much of the year nationwide preaching and teaching at churches, schools, and Bible conferences. Now retired, Dr. Phillips and his wife, Betty, live in Bowling Green, Kentucky.
Endorsements
John Phillips writes with enthusiasm and clarity,... cutting through the confusion and heretical dangers associated with Bible interpretation.