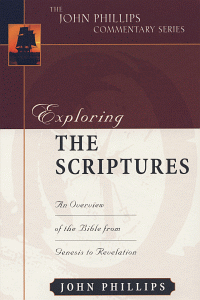 Product Details
Effective Bible study begins with a clear understanding of the Bible as an inspired whole instead of sixty-six disjoined books. Exploring the Scriptures gives a panoramic view of God's Word, providing a firm foundation for more detailed study of books, passages, and themes of the Bible.
Each book of Scriptures is presented through a brief introduction, a concise outline, and a comprehensive summary of the book's content. Included also are special chapters dealing with the major divisions of Scripture and thrity-five maps and charts to help visualization of important Bible content.
About the Author
John Phillips (D.Min.) served as assistant director of the Moody Correspondence School, one of the world's largest Bible correspondence ministries. He also taught in the Moody Evening School and on the Moody Radio Network. Now retired, Dr. Phillips remains active in his writing and preaching.
Endorsements
John Phillips writes with enthusiasm and clarity,... cutting through the confusion and heretical dangers associated with Bible interpretation.