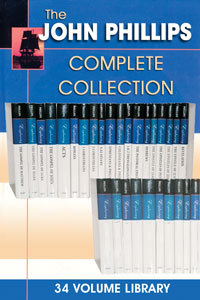 The John Phillips Complete Collection
Includes OT/NT Commentary, Exploring People of the Bible, Sermon Outlines, Study Helps, and more
Product Details
Dr. John Phillips is often quoted by preachers and pastors as their favorite Bible commentator. Shortly before he passed away in 2010, Phillips entrusted his 27-volume commentary series to Wordsearch, and it quickly became one of our most popular commentary sets.
Crystal-Clear Commentary from Dr. John Phillips
Phillips carefully worked on his commentaries for over 50 years. What makes Phillips' commentaries stand apart from others is his ability to drill down to the absolute essence of any Bible passage. Choose a favorite passage, one you know well. If you think you know what Phillips is going to say, you'll be surprised, inspired, and blessed by your new discoveries.
Beautifully Alliterated Outlines and Expository Commentary
All of Phillips' commentaries are meticulously outlined in an alliterated style. He guides you through each Bible passage, highlights essential truths, and then illustrates each thought with applicable parables, stories, news items, and quotes from notable historical figures. You'll find that what Phillips offers is fresh and ideal for preaching and teaching. His commentary is doctrinally sound, emphasizing the practical application of Bible truth.
This bundle contains Phillips' lifetime commentary work and 7 other bonus volumes. It includes his commentary on the entire New Testament, plus the Old Testament books of Genesis, Psalms, Proverbs, Song of Solomon, Daniel, and the Minor Prophets.
The demo video below will show you the benefits of the John Phillips Commentary when used in Wordsearch. I think you'll quickly see how this wonderful library can help your studies of God's Word and your ministry to others.
This wonderful library can help your studies of God's Word and your ministry to others.
Check out a sample by clicking on the Sample button.
About the Author
John Phillips taught and wrote about the Bible for a lifetime. Born in Britain, he moved to Canada after World War II, where he founded and pastored a small church. Phillips later joined the staff of Moody Bible Institute where he served for twenty-five years. Phillips also served as the assistant director of the Moody Correspondence School, spoke regularly over the Moody network, and taught in the Moody Evening Extension School. He authored over 50 books.
Endorsements
Dr. Phillips has the rare gift of bringing diverse Scripture passages together so that we see beautiful patterns in that Scripture, and as a result, better understand the big picture.
No one analyzes the biblical text better than John Phillips. I have benefited greatly from his commentaries and recommend them heartily to pastors, teachers and Bible students everywhere
Dr. John Phillips is one of God's great Bible teachers. His books have been a great blessing to pastors, Sunday school Teachers, and Christian workers throughout the world, and will continue to be until our Lord comes. Read his books and learn more about the precious word.
This series is the fruit of years of study and preaching, John Phillips and I share a passion to preach truth accurately, homiletictically, and practically for the pulpit and pew.
Well-outlined and Illustrated... Will hold the interest of lay leaders and will provide Sunday school teachers and preachers much material.
John Phillips writes with enthusiasm and clarity,... cutting through the confusion and heretical dangers associated with Bible interpretation.
If John Phillips were an artist, he would be numbered among the masters. Paper is his canvas, words are his oils, and the pen is his brush. With these instruments he has produced the Exploring commentaries and books. For more than twenty-five years, John Phillips' books have been my companions. As a busy pastor, I turn to them for instruction, illumination, illustration, and even alliteration - and I never go away disappointed!
In the style that has commended him to numbers of Bible-loving people, Dr. Phillips deals with... Biblical exposition in a Christ-honoring, easily read style.
Products Included In This Bundle