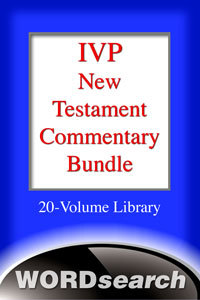 IVP New Testament Commentary Series
20 Volumes
Product Details
The IVP New Testament Commentary is a fresh and modern commentary that holds closely to the NIV translation.
The publisher, InterVarsity Press, calls this commentary a "series to and from the church." They employ a blend of top evangelical pastors and Bible scholars who share a passion for faithful exegesis, pastoral leadership, and a deep concern for the church. Each author starts with the familiar NIV text and examines it closely in the light of the original Greek.
Every volume, informed by the best of up-to-date evangelical scholarship, presents passage-by-passage commentary based on the New International Version along with background information on authorship, setting, theme, and various interpretive issues. A unique format allows the main commentary to focus on the vital message of the New Testament for today's church, while bottom-of-the-page notes include valuable scholarly information to support those who use the volumes as a resource for preaching or teaching preparation.
For example, in Hebrews 11, known as the "Faith Chapter," the IVP New Testament Commentary presents pertinent ideas and information you might not have thought of before. The authors brilliantly discuss the Bible heroes mentioned and challenge you to think about our heroes today. In this one section, they invoked the names of John Calvin, Winston Churchill, Mother Teresa, George Washington, Thomas Jefferson, Martin Luther King and Billy Graham. Strange as it may seem, each of these references (along with many others) was perfectly relevant to making Hebrews 11 personal to today's time and culture. The commentary also always connects one Scripture to another, and in this example invites you to take another look at the book of James, where it says "faith without works is useless."
In Wordsearch, embedded throughout the commentary text are little colorful boxes that say "View Note On." When you click on the little box, it expands and gives you a detailed explanation of something significant. Oftentimes, it will provide additional information on Greek nuances that are not easily carried into our English translations. It's like having an excellent Greek/English dictionary that pops up exactly when you need it.
Readable and reliable, preachers, teachers, students, and anyone who loves studying God's word will find the research in the commentary an indispensable companion.
Check out a sample of this series by clicking on the yellow "Sample" button under the book cover on this page. Read more about each title by clicking on their book cover images below.
About the Editors
The series editor, Dr. Grant S. Osborne, is an Arminian Evangelical theologian. He has been professor of New Testament at Trinity Evangelical Divinity School since 1977. Osborne has also done academic research at the University of Cambridge, England, and the University of Marburg, Germany. He was also one of six editors in charge of the New Living Translation published in 1996.
Dr. Stuart Briscoe, consulting editor, has written more than 40 books and the media ministry, Telling the Truth, which he founded in 1971, continues to reach out daily around the world. In 2000, after thirty years or ministry, retired as pastor and embarked on new ministries, concentrating on reaching out to pastors, missionaries, and church leaders around the world.
Dr. Haddon W. Robinson, co-consulting editor, is the Harold John Ockenga Distinguished Professor of Preaching, senior director of the Doctor of Ministry program, and past President, 2007-09, at Gordon-Conwell Theological Seminary. A native of New York City, he received a Th.M. from Dallas Theological Seminary, a M.A. from Southern Methodist University, and a Ph.D. from the University of Illinois. Dr. Robinson also served as president of Denver Conservative Baptist Seminary for 12 years (1979-1991), taught homiletics on the faculty of Dallas Theological Seminary for 19 years and served as General Director of the Christian Medical and Dental Society. Dr. Robinson was named among Christianity Today International's Top 25 Most Influential Preachers from 1956 to 2006, and in an earlier Baylor University poll as one of the 12 most effective preachers in the English-speaking world. He has served as an editor for the Theological Annual, as a contributing editor for Preaching, and as a fellow and senior editor for Christianity Today. He was president of the Evangelical Theological Society and has served on the executive committee for that group of evangelical scholars. He also serves on the boards of EvanTell, Marketplace Network, and the Evangelistic Association of New England.
Products Included In This Bundle