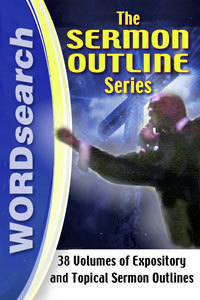 The Sermon Outline Series
Highlights
38 Volumes of Expository and Topical Sermon Outlines
Product Details
One of the first steps in crafting a sermon is developing a good outline, and you can never have enough well-developed sermon outlines in your electronic library. All of these outlines are from the popular Sermon Outline Series and cover several books of the Bible and Christian Living topics.
Expository Sermon Outlines by Croft M. Pentz:
Expository Outlines from the Pentateuch
Sermon Outlines from the Psalms
Sermon Outlines from the Prophets
Expository Outlines on Matthew
Expository Outlines from the Gospel of John
Expository Outlines from Acts
Expository Outlines from Luke
Expository Outlines on Romans
Sermon Outlines on the Epistles: Romans - 2 Corinthians
Sermon Outlines on the Epistles: Galatians - 2 Timothy
Expository Outlines on Hebrews
Sermon Outlines on the Epistles: Titus - Jude
Sermon Outlines on Mark and Acts
Outlines on Revelation
Topical Sermon Outlines by Croft M. Pentz:
Sermon Outlines for Christians
150 Expository Sermon Outlines
Prayer Meeting Outlines
Outlines on the Parables of Jesus
Outlines on the Holy Spirit
Evangelistic Sermon Outlines
Sermon Outlines for Special Days
52 Simple Sermon Outlines
Christian Life Sermon Outlines
Sermon Outlines for Growing Christians
Expository Outlines on the Life of Christ
From Various Authors:
Expository Outlines from Paul's Epistles by Archie L. Edwards Sr.
All Occasion Outlines by Eric Hayden
All Purpose Outlines by Eric Hayden
165 Dynamic Sermon Outlines by John L. Mayshack
175 Sermon Outlines by John L. Mayshack
Sermon Outlines for Evangelism by H. Lee Mason
Fifty Outlines on the Way of Salvation by Jeff D. Brown
Easy-To-Use Sermon Outlines by Russell Spray
Positive Sermon Outlines by Russell Spray
Sermon Outlines for Special Occasions by J. Dean Cameron
Sermon Outlines for Funerals by C.W. Keiningham
Sermon Outlines on Christian Service by Eric W. Hayden
Sermon Outlines on the Gospel of John and First John by Archie L. Edwards, Sr.
About the Author
Rev. Croft M. Pentz was born in 1931 in Roadside, Pennsylvania. He graduated from Washington Township High School with the Class of 1949. While in high school, he lettered in football, baseball, basketball and track. He later received his theological training at Central Bible College, Springfield, Missouri.
Rev. Pentz began his ministry in Little Rock, Arkansas in August 1952. He served as a minister to the deaf for 44 years from 1952 to 1996. He established Calvary Chapel of the Deaf in Elizabeth, N.J. in 1954 and served as its pastor for 42 years. From 1954 to 1996, he was the New Jersey deaf director for the Assemblies of God. From 1957 to 1996, he served as chaplain of the New Jersey State School for the Deaf.
He appeared weekly on "The Evangel" television show in New York City from 1957 to 1971. The Jan. 8, 1960 edition of TV Guide featured an article about his ministry. He interpreted for the deaf at five of the Rev. Billy Graham's crusades — one in Little Rock, three in New York City and one in northern New Jersey. From 1996 to 2007, he served as pastor of senior adults/outreach at Calvary Assembly of God, Waynesboro. This involved services at four nursing homes, teaching an adult Sunday School class and editing the Senior Adult Paper, which was published six times annually. While in Waynesboro, he also assisted local organizations by providing sign language services for the hearing impaired. In 1999, he led the opening prayer for the Pennsylvania House of Representatives seven times.
Rev. Pentz also was an accomplished author having authored 30 sermon outlines, several of which are still in print. He compiled two books of quotes, The Complete Book of Zingers and 1,001 Things Your Mother Told You. He also compiled two books of Christian poetry and authored four Christian handbooks with more than 1 million books sold and several translated into other languages. At age 77, Pentz passed away at Hershey Medical Center in 2008.
Products Included In This Bundle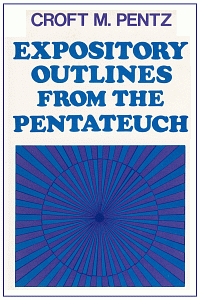 W7-4679 SOS - Expository Outlines from the Pentateuch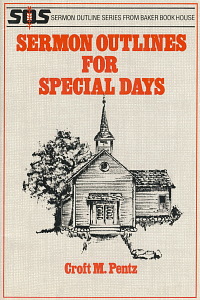 W7-4681 SOS - Sermon Outlines for Special Days
W7-4682 SOS - Expository Outlines on the Life of Christ
W7-4683 SOS - Sermon Outlines from the Prophets
W7-4684 SOS - Outlines for Growing Christians
W7-4685 SOS - Expository Outlines on Matthew
W7-4686 SOS - Expository Outlines on the Gospel of John
W7-4687 SOS - Expository Outlines from Paul's Epistles
W7-4688 SOS - Expository Outlines on Hebrews
W7-4689 SOS - Evangelistic Sermon Outlines
W7-4690 SOS - Sermon Outlines on the Epistles: Titus-Jude
W7-4691 SOS - Sermon Outlines on the Epistles: Rom-2 Cor
W7-4692 SOS - Sermon Outlines on the Epistles: Gal-2 Tim
W7-4693 SOS - Easy to Use Sermon Outlines
W7-4694 SOS - All-Purpose Sermon Outlines
W7-4695 SOS - All-Occasion Sermon Outlines
W7-4696 SOS - 150 Expository Sermon Outlines
W7-4698 SOS - 175 Sermon Outlines
W7-4699 SOS - Sermon Outlines for Funerals
W7-4700 SOS - Christian Life Outlines
W7-4701 SOS - Outlines on the Gospel of John and 1 John
W7-4702 SOS - Sermon Outlines from Acts
W7-4703 SOS - Sermon Outlines for Special Occasions
W7-4704 SOS - Sermon Outlines for Evangelism
W7-4705 SOS - Sermon Outlines for Christians
W7-4706 SOS - Sermon Outlines from the Psalms
W7-4707 SOS - Prayer Meeting Outlines
W7-4708 SOS - Positive Sermon Outlines
W7-4709 SOS - Outlines on Revelation
W7-4710 SOS - Outlines on the Holy Spirit
W7-4711 SOS - Outlines on the Parables of Jesus
W7-4712 SOS - Fifty Sermon Outlines on the Way of Salvation
W7-4713 SOS - Expository Outlines from Romans
W7-4714 SOS - Sermon Outlines on Christian Service
W7-4715 SOS - Outlines from Mark and Acts
W7-4913 SOS Expository Outlines on Luke