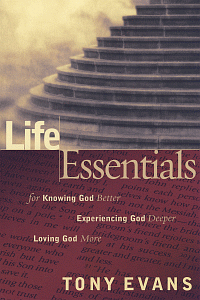 Life Essentials
for Knowing God Better, Experiencing God Deeper, Loving God More
Product Details
Tired of religion? Longing for relationship? You're not alone. Most Christians yearn to grow spiritually, but many don't know how to begin.
Some seek maturity through deeds or doctrine. But Tony Evans reminds us that flourishing faith comes from a vibrant walk with Christ. "If you are pursuing a relationship with Jesus Christ and are passionately committed to bringing Him glory, your spiritual life will grow at a speed you never imagined possible," Evans says.
In Life Essentials, Tony Evans helps us to understand God's plan for our growth, including topics like:
Conversion
The Holy Spirit
Power
Scripture
You'll discover how knowing God better is a passion more than a process. Experiencing God deeper is a matter of the heart first, and then the mind. Loving God more is what we do when we follow the God who first loved us.
About the Author
Dr. Evans is co-founder and Senior Pastor of the 7,500 member Oak Cliff Bible Fellowship in Dallas, Texas. In 1976, Dr. and Mrs. Evans started OCBF with a Bible study of 10 people in their home. Under Dr. Evans' leadership, OCBF today has over 100 ministries.
In 1985, Dr. Evans established Project Turn•Around to serve as the social outreach arm of Oak Cliff Bible Fellowship, offering urban youth and families an array of services that address their social, health, economic and education needs.
He is also founder and president of The Urban Alternative, a national organization that seeks to bring about spiritual and family renewal in urban America through the church. The Urban Alternative radio broadcast, "The Alternative with Dr. Tony Evans" can be heard on over 600 stations daily throughout the U.S. and in over 40 countries worldwide, as well as being seen on television on several major networks and in 100 countries around the world. He is a speaker on the Promise Keepers' platform as well as at crusades and Bible conferences in the United States and abroad.
Dr. Evans was the first black American to earn a doctorate in Theology from Dallas Theological Seminary. He has served as an associate evangelist with the Grand Old Gospel Fellowship in Philadelphia, Pennsylvania. He helped organize and served as Vice President of Urban Evangelical Mission. His professional background also includes serving as an associate professor in the Pastoral Ministries Department of Dallas Theological Seminary in the areas of evangelism, homiletics, and black church studies. He is the former chaplain of the NFL's Dallas Cowboys and presently serves as chaplain for the NBA's Dallas Mavericks.
Dr. Evans is the author of many books, including
Free at Last, The Battle is the Lord's, Our God Is Awesome, Returning to Your First Love, The Promise, Who is this King of Glory?, What Matters Most
and
The Best Is Yet To Come.
Endorsements
Clarity. Conscience. Convicting. These three words summarize my experience with Tony Evans. He never fails to speak with clarity to my conscience-convicting of both God's love and my response.