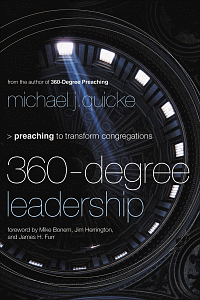 360-Degree Leadership
Preaching To Transform Congregations
Product Details
Many in ministry see preaching and church leadership as separate responsibilities. "Most writing on Christian leadership omits preaching, and most books on preaching leave out leadership," observes Michael Quicke. But effective Christian ministry requires preachers to rediscover leadership through preaching. By adapting a workable and realistic leadership model, Quicke shows how preaching is the main vehicle for leading congregational change.
About the Author
Michael J. Quicke was Educated at both Cambridge and Oxford Universities, he spent 21 years in Baptist pastoral ministry in Blackburn Lancashire (1972-1980) and at the historic city centre church at St. Andrew's Street, Cambridge (1980-1993). While at Cambridge, morning congregations grew from 70 to over 500. The vision of the church involved the development of a mission centre, open seven days a week, through which 4000 people passed weekly. He was also Baptist chaplain to the University. His reputation as a Christian communicator grew as he appeared on television and radio, and spoke at conferences, conventions and assemblies throughout Britain, Australia, Canada and U.S.A.
Since arriving in the U.S Michael Quicke has thrown himself into his vision 'to help inspire a new generation of preachers who will set our churches on fire.' At Northern Seminary he has designed several masters courses in preaching and communication, as well as new courses for the Northern Doctor of Ministry program. He undertook a twenty month interim preaching ministry at First Baptist Church Wheaton (2000-2002), has preached often at local churches and spoken at many conferences across the US and beyond. His lectures in several different university and seminary settings have been well received across North America. His writing has significantly widened his ministry, especially his award-winning book 360 Degree Preaching which is used as a teaching text in seminaries in US, Canada, Britain and Australia.
Endorsements
If you feel your preaching responsibilities get in the way of your leadership, prepare to be challenged. If you feel your leadership responsibilities get in the way of your preaching, prepare to be challenged. 360-Degree Leadership argues persuasively that leadership and preaching are two sides of the same gold coin.
There is a strong link between preaching and leadership, and Michael Quicke addresses that issue with great insight. As an experienced pastor as well as a talented teacher and writer, Quicke understands leadership well and helps us to understand it better. This is an excellent and helpful book.
This is a rare book. Michael Quicke is right. Too much thinking about leadership in the church merely apes secular thinking. Divine dynamics and divine strategy are left out of account. Michael not only challenges our secularism but shows a way forward. Principle, passion, and practice are beautifully blended here. It should restore confidence in the pulpit and help many a pastor to perceive ministry in a more integrated way.
I've been waiting for this book. With warmth and wisdom, Quicke shows us how to bring preaching and leadership together.