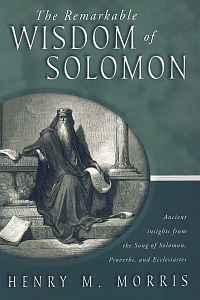 The Remarkable Wisdom of Solomon
Ancient Insights from the Song of Solomon, Proverbs, and Ecclesiastes
Product Details
After the birth of the Jewish nation, but before the brutal string of invading pagan armies, there arose in Israel a king whose splendor was so rich, his very name is still spoken with awe: Solomon.
Inheriting and expanding a magnificent kingdom from his father, King David, Solomon attained both spiritual and material wealth, confounding his enemies and thrilling his own people. The Bible claims there will never be another like him. His legacy includes three canonical works that flowed from God to his pen - Proverbs, Ecclesiastes, and Song of Solomon.
Strangely, these three books are rarely examined by modern scholars, but longtime author and defender of the faith, the late Henry Morris, provided an invaluable commentary. His examination of Solomon's life, and the insights into the writings themselves, give the Bible student a worthy tour through the life of a most remarkable man.
About the Author

Morris was born in Dallas in 1918 and grew up in Texas in the 1920s and 1930s. He graduated from Rice University with a bachelor's degree in civil engineering in 1939. After his graduation in 1939, and through 1942, he was a hydraulic engineer working with the International Boundary and Water Commission. He returned to Rice, teaching civil engineering from 1942 until 1946. In 1946 he wrote a short book entitled That You Might Believe, in which he made an effort to attack evolution. From 1946 through 1951, he worked at the University of Minnesota, where he was awarded a master's degree in hydraulics (1948) and a Ph.D. in hydraulic engineering (1950).
In 1961, Morris and John C. Whitcomb wrote The Genesis Flood, which advocated creationism and flood geology. In it he cited an influence by George McCready Price, a Seventh-day Adventist schoolteacher and defender of creationism in the early 20th century. In 1963 Morris and nine others founded the Creation Research Society. In 1970, he founded the Institute for Creation Research in Santee, California and his son, John D. Morris, took over the presidency of ICR when he retired.
While the greater bulk of his published writings address creation science and evolution themes, he also wrote Many Infallible Proofs, and The Bible Has The Answer, which are both works of general Christian apologetics.
On February 1, 2006, Morris suffered a minor stroke and was hospitalized. Morris was moved from the hospital to a rehabilitation facility near his son's home in Santee, California where he died just a few weeks later.