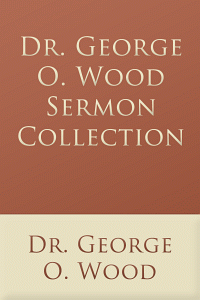 Dr. George O. Wood Sermon Collection
Product Details
Here are 440 fully-developed, expository sermons by Dr. George O. Wood. You'll get 137 from the Old Testament and 303 from the New Testament. Full of practical applications, illustrations, and easy-to-understand teaching, these sermons will be a great resource to those seeking to be nourished by discussion on the Word of God and those in need of fresh homiletical material.
About the Author
The son of missionary parents to China and Tibet, Dr. Wood holds a doctoral degree in pastoral theology from Fuller Theological Seminary in Pasadena, Calif., and a juris doctorate from Western State University College of Law in Fullerton, Calif. He did his undergraduate work at Evangel College in Springfield, MO and served the college in several capacities, including being director of spiritual life and student life from 1965-71. Dr. Wood was ordained with the Southern Missouri District in 1967.
Dr. George O. Wood was elected to the position of General Superintendent of the Assemblies of God in August of 2007. Prior to his current post, he was General Secretary for the Assemblies of God from 1993 - 2007. Before that, he was Assistant Superintendent of the Southern California District from 1988-93. He also pastored Newport-Mesa Christian Center in Costa Mesa, California, for 17 years. During his tenure, the church experienced significant growth, relocated and constructed new facilities, and gave $1 million to world missions in the last biennium of his pastorate.
Dr. Wood is the author of seven books which include Living in the Spirit, A Psalm In My Heart Vol. I& II, Living Fully, The Successful Life, and a college text on the Book of Acts. He also is an attorney and a member of the California State Bar.