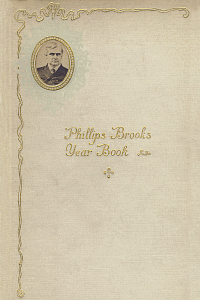 Phillips Brooks Year Book
Selections from the Writings of the Right Rev. Phillips Brooks
Highlights
From the greatest preacher of the nineteenth century
Product Details
These inspiring daily devotionals are drawn from the writings of the Right Reverend Phillips Brooks, D.D., one of the best known preachers of the last nineteenth century. Experience for yourself the rich insight and meaningful wisdom Brooks has distilled from his study and exposition of God's Word.
About the Author
Dr. Phillips Brooks (1835-1893) has been called "the greatest American preacher of the nineteenth century." He attended the Boston Latin School, Harvard University (where Phillips Brooks House was named after him) and the Virginia Theological Seminary. He became an Episcopal priest in 1860 and served in Philadelphia, Pennsylvania. He was known for his support of freeing the slaves and allowing former slaves to vote. In 1869, he became rector of Trinity Church in Boston. In 1872, he helped design the Trinity Church building which stands in Boston's Back Bay today. In 1891, he became Episcopal bishop of Massachusetts. Brooks also wrote the famous hymn "O Little Town of Bethlehem." He also delivered the sermon at President Abraham Lincoln's funeral.
Endorsements
One of the richest and most beautiful books of the point of contents... It would be probably impossible to fit in any volume of this size, drawn from distinctly religious writings, a richer fertility of spiritual resource and intellectual insight than is to be found in these pages.
The stuff out of which the book is mainly made is royal purple, and it is like the sound of a trumpet or the rush of many waters, as one opens his ear to the impassioned voice that speaks in these pages.
The fitness of the these passages is evident at once, and it must be confessed that this work, in the beauty of its selections, in the fitness of its type, and in the simplicity of its binding, is the beau ideal of what a book ought to be. It is as choice and as delightful as one could wish. Such a work as this will go into thousands of hands and find immediate response, and it is calculated to do a great deal of good. In it Bishop Brooks will still preach to the multitude, and he will lead to heaven and guide people in the right way.