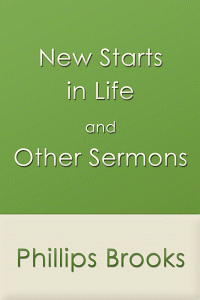 New Starts in Life and Other Sermons
Highlights
From the greatest preacher of the nineteenth century
Product Details
This book contains twenty of Phillips Brooks sermons, including such titles as:
New Starts in Life
Heavenly Wisdom
Joy and Sorrow
The Law of the Spirit of Life
The Mitigation of Theology
Included in this collection of sermons is a helpful and encouraging chart for "Ten Minutes a Day" in prayer. Phillips assists the reader in Adoration, Thanksgiving, Confession, Petition, Intercession, Dedication, and Meditation.
About the Author
Dr. Phillips Brooks (1835-1893) has been called "the greatest American preacher of the nineteenth century." He attended the Boston Latin School, Harvard University (where Phillips Brooks House was named after him) and the Virginia Theological Seminary. He became an Episcopal priest in 1860 and served in Philadelphia, Pennsylvania. He was known for his support of freeing the slaves and allowing former slaves to vote. In 1869, he became rector of Trinity Church in Boston. In 1872, he helped design the Trinity Church building which stands in Boston's Back Bay today. In 1891, he became Episcopal bishop of Massachusetts. Brooks also wrote the famous hymn "O Little Town of Bethlehem."