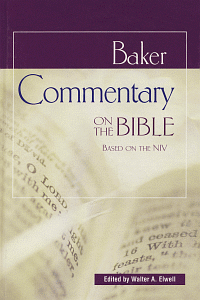 Baker Commentary on the Bible
Based on the NIV
Highlights
Concise explanations on the purpose and content of each biblical book
Product Details
The Baker Commentary on the Bible provides experience and expertise from 38 Bible scholars that is easy to read and understand. The goal of these experts was to share their knowledge in such a way that anyone with or without formal Bible training could find answers and inspiring insight. These scholars included material from their latest research, so fresh material and ideas can be found here for your interest and benefit.
When you sit down to read or study your Bible, this is the resource you want at your side. The Baker Commentary on the Bible goes beyond offering comments, outlines, and introductions to the 66 Bible books. It often includes extended discussions of key doctrines such as redemption, sanctification, and resurrection. Timelines and maps illustrate the text, and applications provide spiritual and personal guidance.
The Baker Commentary on the Bible provides you with just enough commentary to help you understand each verse. Some Bible passages are difficult to understand and require more discussion. Baker takes the time to bring additional depth to these passages. This will help you take note of crucial truths that may seem confusing at first glance.
Check out a sample by clicking on the yellow Sample button underneath the book cover image.
About the Editor
Walter A. Elwell earned a B.A. and M.A. from Wheaton College. Elwell then attended the University of Chicago and University of Tubingen before earning his Ph.D. from the University of Edinburgh. He's been an instructor in Greek at North Park College in Chicago, Illinois, and a professor of Bible at Belhaven College in Jackson, Mississippi; and currently serves as professor of biblical studies and dean of the graduate school at Wheaton College. He's also a consultant to both the Evangelical Christian Publishers Association and the Evangelical Book Club, and a member of the Society of Biblical Literature, Institute for Biblical Research, Evangelical Theological Society, Midwest Association of Graduate Deans, and Chicago Society of Biblical Research.
Endorsements
A solid contribution to the field....Preachers looking for a contemporary one-volume biblical commentary will greet the Baker Commentary on the Bible with enthusiasm.
[A] well-designed and readable commentary....One-volume commentaries are essential to basic and advanced reference libraries.
People in the pews as well as pastors are those to whom this large one-volume commentary of the Bible is addressed....Worthy of serious study.