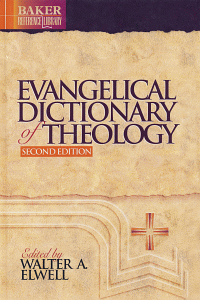 Evangelical Dictionary of Theology
Second Edition
Highlights
Named as one of the 850 Books for Biblical Expositors by the Master's Seminary
Product Details
Theologians, pastors, lay readers, and students have relied on the Evangelical Dictionary of Theology as a valued resource for over fifteen years. Now thoroughly updated, this leading reference work continues to provide comprehensive, useful, and accurate information in systematic, historical, and philosophical theology as well as theological ethics.
Walter A. Elwell was born April 29, 1937, in Miami, Florida. He earned a B.A. and M.A. from Wheaton College. Elwell then attended the University of Chicago and University of Tubingen before earning his Ph.D. from the University of Edinburgh. He's been an instructor in Greek at North Park College in Chicago, Illinois, and a professor of Bible at Belhaven College in Jackson, Mississippi; and currently serves as professor of biblical studies and dean of the graduate school at his Alma Mater, Wheaton College. He's also a consultant to both the Evangelical Christian Publishers Association and the Evangelical Book Club, and a member of the Society of Biblical Literature, Institute for Biblical Research, Evangelical Theological Society, Midwest Association of Graduate Deans, and Chicago Society of Biblical Research.
Elwell's strong writing and editing skills have produced such significant reference works as Encountering the New Testament, Readings from the First-Century World, Topical Analysis of the Bible, Evangelical Dictionary of Biblical Theology, The Concise Dictionary of the Christian Tradition, Evangelical Commentary on the Bible, and Baker Encyclopedia of the Bible.
Endorsements
Provides for the first time a full and balanced overview of evangelical theology.