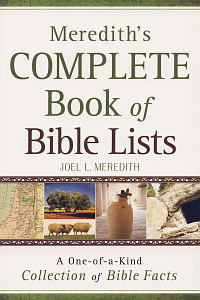 Meredith's Complete Book of Bible Lists
A One-of-a-Kind Collection of Bible Facts
Highlights
There are more than 350 lists in 42 distinct categories
This edition includes a new bonus list: Twenty-nine Positive Statements From Scripture
Product Details
Meredith's Complete Book of Bible Lists will inform and fascinate you with its collection of impressive Bible facts. In this comprehensive volume you'll find the expected...
The Ten Commandments
The Two Greatest Commandments
Seven Good Kings
Names of Angels
And the unexpected...
Nine of the Earliest Recorded Inventors
Sweet and Sour: Flavors in the Bible
Seventeen Hugs and Kisses
Important Bones
About the Author
J. L. Meredith's many years of experience in writing technical manuals for the electronics industry provided excellent background from which to draw in preparing the information for his books. His personal, in-depth study of the Bible, his careful research in related materials, and his meticulous attention to detail are rounded out by a wry humor--all combining to produce enjoyable and educational reference works. He and his wife live in Roanoke, Texas.