Trailblazin Ministries Devotional Commentary - James
Author: LaRosa M. Johnson, Jr.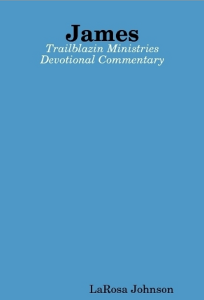 Product Details
The James commentary is the first volume in the on-going Trailblazin Ministries Devotional Commentary, taking you on a verse-by-verse study through the epistle of James. This work is a collection of devotions that were published as daily devotions at TrailblazinMinistries.com and later compiled into a commentary to aide in Bible study. Unlike many traditional commentaries, it is written in a conversational tone so as to help even the novice Bible student understand the truths of God's Word.
About the Author:
LaRosa Johnson is an employee at WORDsearch Corp., where he currently serves as their lead e-book developer. In 1999, he started an online website ministry called Jesus4Life, which he later renamed to Trailblazin Ministries in December 2005. It was with this online ministry that he began his writing ministry and teaching the Word of God. Over the years his ministry has grown into a global ministry with churches and ministers all around the world using his resources and teachings to help feed their flocks.
LaRosa is currently in training as a pastor-teacher at Austin Bible Church in Austin, TX, where he also teaches on occasion. He is married to Robin Johnson and they have three children, two sons and a daughter.