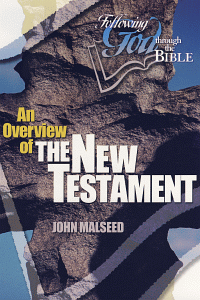 Following God: An Overview of the New Testament
Product Details
An Overview of the New Testament contains a one-page synopsis and "blueprint" Bible study for every chapter in the New Testament. Each "blueprint" begins with easy to follow Scripture divisions that are summed up with challenging self-examination and thought-provoking study questions. The study questions are designed to encourage readers to open their Bibles to find God's truths. Prayer and praise points allow time for quiet contemplation and application of the lesson.
Allowing Scripture to be its own interpreter, An Overview of the New Testament encourages readers to compare Scripture with Scripture (1 Cor. 2:6-13), so that they can discover the true message God has for each of us. Unlike other books in the acclaimed Following God Bible Study series, this Bible study does not give answers to the study questions asked, encouraging readers to find the answers in the greatest textbook of all time - the Bible. Whether it is used for group study, individual devotions or as a tool for preachers, An Overview of the New Testament is a new and exciting way to learn the truth of God's Word.
About the Author
John Malseed is a graduate of Emmaus Bible College, Sydney, Australia. John's love for preaching and teaching has led him to serve God in various fields: pastoring churches, lecturing in Bible colleges and, for a period, serving God in France as a missionary. He has also supported himself in Christian ministry by running his own business. John's great burden is to enable people to know God better through a daily routine of studying the Scriptures. John is Irish born but lives in Australia with his Australian wife Helen. John and Helen have three adult children, Erin, Rachel, and Michael.