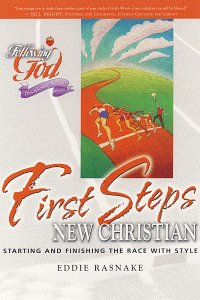 Following God: First Steps for the New Christian
Starting and Finishing the Race with Style
Highlights
Part of the Following God Series
192 Pages in Print Form
Product Details
Following God: First Steps for the New Christian is all about having a firm foundation for our walk with the Lord. This study takes believers through the kinds of topics that will be relevant the rest of their Christian lives. These are the kinds of practical issues that we apply on a consistent, day-in and day-out basis in our relationship with Christ. In John 15:7-8 Jesus said that we could prove to be disciples if we abide in Him, His words abide in us, we ask and He answers, we glorify God, and we bear much fruit. Paul said that three things would last: faith, hope and love. Using these two Biblical guidelines, the book covers each of those key areas of the Christian life. For example, two weeks are spent on abiding in Christ. The first week focuses on how to abide, and the second on dealing with sin to get back to abiding. In addressing having "His words abiding in us," one week teaches Bible study methods. This is followed by a lesson on personal devotions, which bridges between "His words abiding in us" and the next topic in Jesus' list – prayer. The goal is that by the time someone finishes this book, they have the practical tools to keep growing and maturing as a Christian.
About the Author
Eddie Rasnake graduated with honors from East Tennessee State University in 1980. He and his wife, Michele, served for nearly seven years on the staff of Campus Crusade for Christ. Eddie then served four years as campus director of the Campus Crusade ministry at the University of Tennessee. In 1989, Eddie left Campus Crusade to join Wayne Barber at Woodland Park Baptist Church as the Associate Pastor of Discipleship and Training. He has been ministering in Eastern Europe in the role of equipping local believers for more than a decade and has published materials in Albanian, Greek, Italian, Romanian, and Russian. Eddie serves on the boards of directors of the Center for Christian Leadership in Tirana, Albania, and the Bible Training Center in Eleuthera, Bahamas. He also serves as chaplain for the Chattanooga Lookouts (Cincinnati Reds AA affiliate) baseball team. Eddie and his wife Michele live in Chattanooga, Tennessee with their four children.
Endorsements
This study consistently takes the student to the Word of God. A refreshing study that stays true to scripture.